Page 2 of 2
'IT WAS FIVE PAST MIDNIGHT IN BHOPAL'
- Lapierre's new journalistic triumph
by
Isidore Domnique Mendis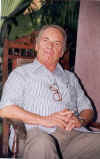 Lapierre's prediction of a terrorist attack on New York, masterminded by the Arab world chillingly resembles the macabre drama that unfolded on September 11. 'The Fifth Horseman', his 1981 book with American journalist Larry Collins was an unnerving peep into the shape of things to come and how the ugly face of terrorism would scar America forever. The racy novel, a runaway hit at that time, revealed in minute detail the mindset of a terrorist and the dangers of fundamentalism.
Twenty years later things have come true unnervingly. Says Lapierre, " the setting and the actors are the same as in the novel. Only the villain has changed from Libya's Col. Gaddafi to Osama Bin Laden."
Lapierre admitted that he was compelled to write The Fifth Horseman, as he was very concerned about the dangers of America letting Arab countries tacitly arm themselves with lethal weapons in exchange of oil.
" In a book published twenty years ago we were able to foresee a tragedy that could befall the city of New York. That's exactly what happened on September 11," says Lapierre.
When The Fifth Horseman was first released, most critics and reviewers dubbed it as far- fetched and alarmist. Says Lapierre, " Two decades back everybody in the West was prepared to sell nuclear technology to any Arab country in exchange of oil. Larry Collins and I were both very concerned at such myopic policies of the Western Government. Both of us began researching the disastrous ramifications of such a policy."
Prophetic
The prophetic issues the book raised included such questions as : What would America do if a missile was directed at the White House? Given his loathing for the U.S. (in the eighties), how would a man like Libya's Col. Gaddafi behave once he was armed with nuclear weapons?
" Though at that time many readers considered these possibilities remote, given our extensive research, we knew something of this sort was just waiting to happen," says Lapierre. America is a very free country and New York symbolizes that freedom. There is very little security and even if someone planted a nuclear bomb it would be very difficult to detect it."
The book had such shocking effect on the French President that he cancelled the sale of nuclear reactors to Libya, though it was meant for peaceful purposes. Paramount Pictures, who were planning to make a film on the novel, dropped the idea at the last moment fearing that people may try to emulate the scenario that would unfold in the film. Nobody knew that twenty years later a handful of unknown fanatics would do exactly that in real life.
Through his writings and otherwise Lapierre has been time and again raising his voice against global terrorism and mass tragedies and calls for concerted action against perpetuators of violence.
The tales of valour that unfold during tragedies is what motivates this France born writer. In books like, Is Paris Burning, The Fifth Horseman or the travails of the Indian partition in Freedom At Midnight or even his latest, It Was Five Past Midnight In Bhopal, Lapierre is at his best recounting such difficult themes.
But his works are not drab tales of suffering and misery, they are in fact thoroughly researched masterpieces. His investigations can take years before he actually sets pen to paper. He usually visits the place he is writing about and collects first hand accounts by meeting real victims and crosschecking facts. This enormous work tests Lapierre's journalistic acumen to the hilt and not surprisingly novel after novel he has come up trumps.
Five of his books - Is Paris Burning, …Or I'll Dress You In Mourning, O-Jerusalem, Freedom At Midnight and The Fifth Horseman have been bestsellers read by over 100 million people round the world. Joining the list is his latest book It Was Five Past Midnight In Bhopal, which has already topped the charts in France and the U.K.
Having so ominously predicted the New York terrorist strike two decades back, would Lapierre go back to fiction? No, says the 67-year-old French author born to a diplomat father and journalist mother. "My next book will again be on human sufferings and the spirit that binds people together. That's what life is all about. Win and lose!"
____________________
Copyright © 2000 - 2001 [the-south-asian.com]. Intellectual Property. All rights reserved.