Page 4 of 4

Sadhus & Sects
by
Dolf Hartsuiker
Foreigner Sadhus
Foreigners can become sadhus too, and the locals consider them just as holy as Indian sadhus. Especially the simple rustics (75% of the total population still lives in the countryside) treat them with great respect and ask for their blessing. The city-dwellers, the modern, Westernized Indians often show less understanding. Though many nationalities are represented, and both male and female, most of these foreigners are Italian or French.

Mohan Das (left), a Japanese sadhu, being blessed by his guru of two years, Mathura Das. According to ancient tradition, the pupil must carry out all his teacher's chores, and Mohan Das acts almost as the slave of his master. However, he does so willingly, since such work brings much positive "karma" to wipe away the sins of previous lives.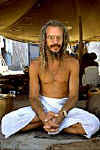 Charan Das, originally an American, has lived as a sadhu in India for over twenty years. Cheerful and without cares, he roams the country for part of the year, going from one holy place to the other, visiting with brother-sadhus. The other part of the year he spends in his guru's ashram as a period of study.
Some foreign sadhus are 'part-timers', who time and again plunge into the adventure of sadhu-life but keep their ties to the home-front. Others burn all their bridges, as it should be done, and totally commit themselves to the realization of the sadhu ideals.
________________