Page 4 of 4
Sufi Poet-Saints (cntd.)
by

Salman Minhas
Sufi is not limited by religious bounds,
He discloses not the war he wages in his mind,
Helps and assists those who with him fight.- Shah Abdul Latif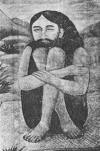 Shah Abdul Latif Bhitai - Poet Laureate of Sindh
[1689-1752] - Poet Laureate of Sindh
(cntd)
The Surs of Shah Jo Risalo
The word " Sur" means a mode of singing .In all there are 30 Surs in Shah Jo Risalo. In Indian classical music, its " Rag" and Raginis" are sung at different times of day and night. In Risalo the Surs are named according to their subject matter . The underlying theme is how the individual is to cultivate the godly attributes, negate his ego so as to evolve to a better human being.
Bhitai art is "impressionistic" . He uses the plight of the poor, the peasantry, the fisherman, the weavers, and the helpless needy women in his work. The ancient folklore names of his stories and episodes such as Sasui , Marvi, Sohni , Bilawal become the means by which he attains his end - namely that of the evolution of better human beings in society. In many verses the virtues of patience and the evils of arrogance , anger are stressed
Examples of the Surs :
-- "Sur Hussaini" glorifies the martyrdom of Hasan and Hussain.
-- "Sur Samundi" sings of the trading traditions of Sindh. The Monsoons are over and the sailors get ready to catch the receding monsoon winds. Shah gives this poetry a metaphor of worshipping the "Deep" sea [God] if one is to gain rubies and pearls.
-- "Sur Ramkali" is devoted to Yogis/ Jogis, " they carry nothing , not their ego, .... Shah Latif says : " Sorrows are the ornament of joys; I have no use for joys unmixed with sorrows.... don't follow the well beaten path ; people float downstream , you should swim upstream.."
-- " Sur Sarang" is an cry and ode for the Monsoon Rains in the parched Sindh countryside ,
-- "Sur Sasui" is on the tragedy of Sassi and her lover Punhu,
-- " Sur Bilawal" sings of the golden period in Sindh under the Sammas and the tragedy of Bilawal a liberal scion of the royal , who was killed [ crushed in an oil press] by the fanaticism of the orthodox Sammas.
Look at the weavers,
delicate is their love,
they join every day,
and learn not to part.
Sufi is not limited by religious bounds,
He discloses not the war he wages in his mind,
Helps and assists those who with him fight.
[ Sur Yaman Kalyan]
" Go not far , sasui , nor give up the quest,
walk not with your feet, yet sit not quite content,
All connection with joys of life snap,
Walk with your heart , that the journey may soon end.
[ Sur Sasui ]
Shah Latif's Sasui-Punhu [ a tragic romance of the Sammas period 1250-1350.]
Sasui was born in a Brahmin family ; because her horoscope indicated that she was destined to marry an alien ,her father floated her in a wooden box down the Indus river. A washerman at Bambhore [ re; the folk song "mera lutta -e shehar Bhambore nee ... singer Dr. Amjad ] found her and being childless adopted her. Because of her beauty her name was Sasui, Sindhi for moon [ in Sanskrit "Sashi" ]. Her beauty's fame grew far and wide such that it attracted a merchant prince of Mehran, Baluchistan. It was mutual love at first sight. Punhu marries Sasui , refuses to be a trader and settles down in Bhambore to become a washerman. On hearing this news , Punhu's father turns furious and sends his other two sons , who drug Punhu and take him away while Sasui sleeps. Sasui wakes up to find Punhu gone, starts walking barefoot in her search for Punhu. A shepherd on the way views her with a leery eye. Sasui prays to mother earth to protect her honour and the earth open up to end her life. Punhu meanwhile recovers and escapes back to Bhambore only to find Sasui dead. He too meets the same end and is thus united with sasui in death.
"Sun sets , Sasui weeps tears of blood ,
No messenger , no traveler from whom to ask of that place ,
Confused she remains , but does not think of going back."
[ Sur Sasui Abri]
The poetry has descriptions of how all the birds and animals in the desert were saddened by Sasui's tragedy . Shah Latif's compassion was such that one story relates to his adoption of two puppy dogs who were abandoned . He called them "moti" [ pearl ] and "khenu"" [ a ball ] . These two dogs followed him around his travels with the fakirs and jogis in Sindh.he had adopted
Shah Latif's Suhni - Mehar : [ a tragic romance of the Sammas period 1530-1550.]
The Arghun great descendants of Genghis Khan were pushed out of Kandhar by Babar and descended on Sindh around early 1520 and were assimilated into the Sindhi culture. The Arghuns defeated the Sammas . The Sammas are believed to be originally J/Yadavas Rajputs who settled in Gujarat after the early [ 900 AD ] Arab invasion and later drifted back into Sindh and fought the Khiljis alongside the Soomros. When later peace was made, the result was that the Hindu chiefs of lower Sindh lost power. For a while Sindh was shared between the Arghuns and the Tarkhan. Humayaun married an Arghun Sindhi girl Hamida Banu at a village Patt in Sindh in 1541 and Rana Birsal of Amarkot gave shelter to Humayun. Here Akbar was born on October 15, 1542. Isa Khan Arghun in 1655 invited the Portuguese for help against the local tribes. Thatta was sacked. It is in this period of darkness that the episode of Suhni -Mehar is set in .
The story here that Shah Latif's poetry sings of is the tragedy of Suhni [the beautiful one ] - it is also known in Punjab as Sohni - Mahiwal . Sohni is the daughter of Tula, a potter of Shadapur . Izzat Beg a merchant-prince of Bokhara , falls in love with Sohni. . He forgets his business and Bokhara and settles down as a buffalo-herd by the name of Sahir across the river .Every night Sohni would swim across on her pitcher till one day her angry and jealous sister in-law replaced the baked pitcher with an unbaked one. As Sohni enters the river the pitcher melts and Sahir hearing her cries also jumps in to save her , and both meet a watery grave.
The last days of Shah.
The history books claim that sometime before his death, Shah threw the manuscripts of his works into the Karar lake near his village of Bhit [ the mound/ rock ]. His reason for doing so was that his people may not understand the main theme of messages. However his disciples had some older copies of his work. and it was the mainly through the efforts of a lady by the name of Mai Miamat, a disciple, who had memorised a lot of his verses. Thus by her singing the verses, his disciples were able to record his messages.
It is said that Shah longed to perform a pilgrimage to Karbala [ the site where Hasan & Hussain were martyred ]. As he went to Kutch to board a ship for the journey, a pious man met him and said : " O saint you have always said that Bhit will be your burial place ". At this remark , Shah went back to Bhit .
It is said that he donned black garments and went into seclusion for 20 days , composing "Sur Kedaro" a serious ballad about resisting tyranny and about the eternity of spirit and the mortalness of the body. After this he sang "Sur Suhini" [ kahirre manjhi hisaaba - on what count am I here ].
Shah Latif asked the jogis and the fakirs to play music and sing . He died after three days on 22 December 1751. The only worldly possessions he left behind were a patched cloak, a quilt and a begging bowl.
_________________________________
We are grateful to Nadeem Jamali (www.ajrak.org) for providing some of the photos on Sindh.