Page 2 of 2
At home in South Asia
By Saikat Neogi
(cntd)
"Never felt like a tourist in India" - Barry John

Like Francis, it was purely business interest that brought Swiss national Frederic A. Favre to India back in 1949. Belonging to the eighth generation of the Favre Leuba watch manufacturing family, the then 21-year-old Frederic set up dealer network of the watch. " I left all the comforts of Switzerland to take up the challenge of setting up business in India", says Favre. The Favre Leuba connection with India goes back to the mid 1800s and is not confined to the watch industry alone. Fritz Favre, a fifth generation scion of the watch-making firm came to India in 1865. His eldest son, Armand Favre, an engineer, was involved in the building of roads and railways in Punjab and Kashmir. The second son, Adalbert, was a watchmaker in charge of the Bombay office of Favre Leuba but died in 1890 at age 30. A third son, Auguste, lived here till 1890 and thereafter returned to India every year till his death in 1908. It was business again which brought Frederic A. Favre to India in 1949. Back in the early fifties he established a strong dealer network across the country selling mechanical alarm clocks. However, in 1956 the Government of India put a ban on import of all foreign watches and that's when Favre set up Sifco Ltd. in collaboration with Kienzle of Germany to manufacture quartz alarm clocks. Favre has been in India since the time of independence and has seen the country grow. " When I came to India even electricity was a rarity. Now you see the latest international cars moving on Indian roads. India is developing fast and is a land of opportunities," says he.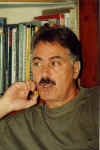 But, for theatre guru, Barry John, it was love of a different kind that lured him to India. And in the 25 years that he has been in India, the `artistic boy from a working class British family', as John calls himself, has certainly come a long way. Today, many of the big names in media and performing arts can trace their early learning experiences to Barry John. Ranging from Shah Rukh Khan, Siddhartha Basu, Mira Nair to stage performers Lillette and Ravi Dubey to TV stars Divya Seth - they have all been tutored by Barry John who has now become a name to reckon with in theatre. Theatre has been Barry's sole sustenance. And he says he is doing all he can to keep the art form alive. Back in 1968 when he came to India from England he had the right credentials for theatre. A graduate in drama from the University of Leeds, Yorkshire, he says he was fascinated by the East and opted to do 'voluntary service' in Bangalore. He came to Delhi in the early seventies and recollects, " Theatre in Delhi at that time was very exciting. All the great names like Roshan Seth, Sushma Seth, Om Shivpuri, Om Puri and Kulbhushan Kharbanda were active then. It was the golden era of theatre for Delhi." Since the beginning, he says " I felt very comfortable in India, almost as if I belonged here. I didn't mind the heat or the food because I never felt like a tourist here. When I came here I started living like an Indian earning Rs. 250 a month." His devotion has paid rich monetary benefits today. Apart from being a much in demand stage director, Barry John opened his theatre academy Encore in Noida, near Delhi, to train students on full time and part time basis. Says he, " My focus is on shaping the academy and making it a real learning experience."
Similarly, Arthur C Clarke, the scientist, physicist, astronomer from England has lived in Sri Lanka the last thirty years. His interest in underwater exploration drew him to the Indian Ocean, "and he is now a Director of the Colombo-based 'Underwater Safaris'." President Jayawardane appointed him Chancellor of the University of Moratuwa, near Colombo, where a technology institute has been set up and named after him – the Arthur Clarke Centre for Modern Technologies. Arthur Clarke delivered the Nehru Memorial lecture in Delhi in 1987 and has also been Vikram Sarabhai Professor at the Physical Research laboratories in Ahmedabad.
India is more than just a passing fancy for these new and welcome residents. It has offered them an alternative lifestyle as also fame and fortune. Their success is luring more foreigners to come and settle in, what many consider, is the new land of opportunity. Says Mark Tully, " India has moved from the bicycle to the automobile age. There's all round progress and also certain westernisation of the middle class. Most of all it offers freedom to professionals. That's why so many foreigners are coming in. This is just the beginning of an influx."
______________________