Page 4 of 10
Telecom & Software - Trends & Future in South Asia
(cntd.)
by
Salman Saeed
Jewel in the Crown - Sam Pitroda's C-DOT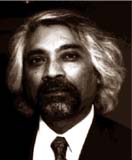 Originally from Orissa , Pitroda lives in a suburb of Chicago, Illinois.
Value / Wealth created in 1980, $10 million in U.S..
Later on went on to create C-DOT valued in 2001 for India's Telecom Ministry in at least 1-5 Billion Dollars.
In 1984 Sam Pitroda, silver haired, introduced himself to an audience of Saudi American Bank [Citibank] in Jeddah's Hyatt Hotel as a venture capitalist . At that time very few understood what this term meant. He had sold his telephone exchange company to Rockwell for about $ 10 million and had been picked up by the Indian Prime-Minister Rajiv Gandhi to start a new public sector venture called Center for the Development of Telematics [C-DOT] .
Pitroda successfully embarked upon the creation and launch of Rural automatic telephone exchanges [ RAX] designed and produced by his team of Indian engineers. This was against all the rivalries and the intense fight against him conducted by various Ministries of Telecom and Bureaucrats in the public Telecom sector and the Multinational players [ Siemens , Alcatel, Ericsson] in the private sector. He was even accused of being a CIA agent by the Indian press.
Today the work of Sam Pitroda has resulted in RAX of up to 200 telephone lines. Urban Towns requiring 40,000 lines are also produced . They come complete with SS7 Intelligent Network signaling systems [ these are the systems that are used to find out if a number is busy or available and involve a separate system that checks up the data bases of phone numbers ; also they provide toll-free services; in this way a the main telephone network does not get overloaded ; these systems are also used to interconnect Mobile and land based telephone numbers]. In addition ISDN facilities are also available ; what is unique is that these switches have been designed to operate without air- conditioning in harsh environments.
About 40,000 exchanges totaling about 20 million telephone lines [ numbers ] have been installed in India. Exports in bulk have been to about 22 countries such as Vietnam , Bangladesh, Nepal, Ethiopia, Nepal, Ghana, Uganda. C-DOT sells its design licenses to about 20 different Indian equipment manufacturers . It has a R & D center in Bangalore with complete test equipment, microprocessor development systems, CASE Tools, Object- Oriented methodologies, software metrics, along with V5.1, V 5.2 interface , SS7 signaling systems complete with the SSP, SCP and SMP systems.
Pitroda has continued to be active with the TIE [ The Indus Entrepreneurs] group and has recently completed a book about entrepreneurship and writes a regular column in "Silicon India".
Copyright © 2000 - 2001 [the-south-asian.com]. Intellectual Property. All rights reserved.