Page 7 of 10
Telecom & Software - Trends & Future in South Asia
(cntd.)
by
Salman Saeed
Ambaniís - Reliance Infocom

Dhirajlal Hirachand Ambani or Dhirubhai Ambani and his two sons Mukesh and Anil .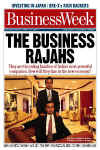 Photo credit: BusinessWeek & Dilip Mehta

Father Dhirubhai - high school dropout from Corwad, Junagadh district.

Son Mukesh,

Son Anil , a graduate of the Wharton School of Business.

Value/ Wealth Created about $ 7 - 20 billion .

The story of the Ambani family is not simply a rags to richest story. With every project the Ambanis have defied established wisdom and established the largest operations of its kind . Starting from Reliance Textiles in 1980ís [ after a series of small build-ups of the various chemicals involved in artificial fabrics - Reliance In 1991, started its most valuable project, at Hazira, the largest single multi-feed ethylene cracker plant in the world. Hazira is a completely integrated world class plant, manufacturing polyethylene (PE), polypropylene (PP), polyvinyl chloride (PVC), polyester terephthalate (PET) and other intermediates like vinyl chloride monomer, mono-ethene glycol and pure phthalic acid (PTA). The Hazira plant gives Reliance 50 % of the Indian market .

They went through building up the Oil Refinery at Jamnagar with its own crude oil port. Reliance also is into Power Generation and Insurance.

Now the Reliance Infocom project that will comprise the largest Broadband Infrastructure project in India is being rolled out at a speed that leaves the competition from the the others [ Bharti Mittal, SNL , BSNL, GAIL, SAIL , Indian Railways] far behind.

As a group they contribute about 5 % of the Indian Governments Revenue. What is more surprising is that these projects were often started, completed and went into production profitably against the studies the Ambanis got done by foreign consultants. Also the speed of execution of these Mega projects have been done are noteworthy -- the oil refinery was completed is 36 months with a capital cost per ton about 30-50 % lower than other refineries in Asia. The Ambanis' oil refinery accounts for about 25 % of the Indian refining capacity. Ambanis' Reliance

holds about 100,00 square kilometers of East India and West India offshore drilling rights .

After a stroke and a heart attack laid the father to a more relaxed work schedule , Anil and Mukesh have held the Ambanis' empire called Reliance together . Anil handles Investments /Financial Markets [ both Indian & International ] and Corporate Communications especially those involving foreign Companies . Mukesh is the strong & silent type and hands-on can do business race horse.

Business Projects are meticulously studied and alternative investment /capital raising projects are kept ready , should the need arise . As an example , when Chidambaram the Finance Minister gave the approval for Reliance Industries to post a 100 year bond in USA , it took about 3 hours after that for the Ambanis to confirm that the Bond had been placed .

A very human approach to people management is also the hallmark at Reliance . From the 80,000 plus Construction workers at the Oil Refinery to executives , only the best care is given. The best are identified and then brought into the company.

Talking about the potential of the Indian software engineers , Mukesh Ambani at a meeting of the Indian Chamber of Commerce said that an Indian engineer can earn up to $20,000 annually ; if by 2020 India can produce about 50,000 engineers , then the potential income to India will be in Trillions of Dollars.


Reliance Infocom Broadband & Cellular


As of November - end 2001 , the news is that Qualcomm , the US based cellular CDMA technology company , is all set to invest $ 300 million in Reliance Infocom.

The Bombay-based group is in the midst of building a 60,000 km (37,500 miles) fibre-optic network using IP technology, linking 115 Indian cities and towns in a drive to become a fully-integrated firm spanning telephone, Internet and entertainment. The network is expected to cost 250 billion rupees ($5.6 billion) to build. Reliance has entered the telecom industry because of prospects for rapid growth in a market which has just over three phones for every 100 people in a nation of one billion people. Technology research firm Gartner expects India's fixed-line subscriber base to jump to 83 million by 2005 from about 30 million now.

Reliance Infocom has set up the state of the art Data Center (IDC) in Navi Mumbai. This is the first IDC set up by Reliance & soon to be followed at Bangalore & Delhi beside other major cities. Reliance Data Center at Mumbai is connected to Internet on E3 links and is shortly going to be connected on STM-1 line to Tier 1 ISP at USA providing faster access to & from Internet for its customers and the servers located at Data Center. All Reliance Data Centers will be interconnected across country providing Disaster Recovery (DR) and host of other value-added services including VPN connectivity, IDC in Reliance with 24 X 7 support and ensures that your site is up and running smoothly.

Several Indian companies are creating bandwidth but they are behind Reliance Infocom's mega-project. Reliance Infocom has been laying optical fiber cables at a speed of approximately 100 kilometers per day, an impressive speed which other Indian broadband companies have not been able to achieve. While most of Relianceís competition is laying 3 pairs of cables, Reliance is laying 8 pairs of cables at 6 feet below ground level. It has laid over 10,000 kilometers of ducts so far. By the end of 2002, RI would have used 80,000 kilometers of HDPE pipes..

This project is expected to support the growing demand for bandwidth by user industry sectors. Increased availability and reliability of bandwidth is expected to further increase business opportunities in computer services, value-added telecom services, and entertainment services. RI's backbone will also support the needs of India's ever-expanding Information Technology industry.

In Telecom, Reliance provides cellular and basic telephony services. It has cellular licences for seven circles in 13 states. It also has the basic telephony licence for Gujarat state where it started in March 2000. It has covered 36 cities in the first phase of cellular operations and its subscriber base is at 70,000 this year. It plans to expand its cellular coverage to over 90 cities.

Copyright © 2000 - 2001 [the-south-asian.com]. Intellectual Property. All rights reserved.