Celebrating Women & Women in Politics
By Indrani Bhagat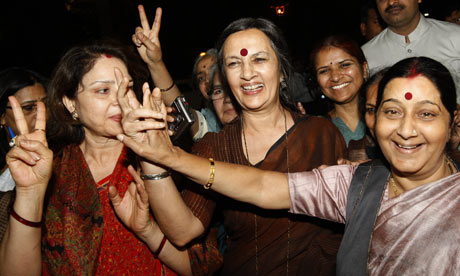 Monday, March 8, 2010 - I arrived early morning at Jaipur's Main Bus Station to board the very comfortable air-conditioned Volvo coach to Jodhpur. The fare for the six-hour journey is Rs 450. As I stood at the ticket counter, money in hand, a smiling clerk at the window said, "No money today. Free".
"Why?" – I asked, a trifle puzzled.
"Women's Day today – all women travel free today – no ticket - Rajasthan Government's order."
I had never before been treated to anything so welcoming and touching by any government anywhere – so this came as a very pleasant surprise.
In Jodhpur, I checked into the Taj Gateway and was wished 'Happy Women's Day' by the check-in staff. The after-dinner dessert arrived on table with Chef's compliments - 'Happy Women's Day' written in chocolate. Later that evening, I was sent chocolates to my room – artistically arranged on a platter that said 'Happy Women's Day'. I had never experienced Women's Day so warmly ever before.
The UN has been observing March 8 as International Women's Day for 35 years now – but it took Rajasthan Government and Taj Gateway at Jodhpur to make me acutely aware of the importance of the day. I felt truly appreciated and pampered – but just for that one day. Why couldn't everyday be Women's Day – or even Men's Day – we'd all be so happy – especially in Rajasthan.
The following evening, Rajya Sabha, the upper house of Indian Parliament, voted almost unanimously to pass the historic Women's Reservation Bill that would reserve a third of legislative seats for women. It would also mean that one-third of the existing reserved seats for scheduled caste and scheduled tribes candidates must be contested by women. The current representation of women in the lower house of Parliament is a staggering 10%. A quick calculation – and it emerged that the next Lok Sabha could be almost equally divided between the two genders – at least half our elected reps could be women. That would be a Great Leap Forward – from the current 59 to 272 or possibly more - in a House of 545!
Back-to-back celebrations for women! Hello Happiness!
And then followed yet another revelation - if 33.3 per cent reservation for women is added to the already existing 22.5 percent reservation for scheduled castes and tribes – we will have a more than 55 per cent reserved Lok Sabha !!!
Manmohan Singh, the prime minister of India, described the overwhelming 186-1 Rajya Sabha vote as a "historic step forward toward emancipation of Indian womanhood". Sonia Gandhi, the president of the Indian National Congress party and chair of the ruling coalition, said that it was "a happy day". Critics and cynics soon emerged in headlines – some people are killjoys. They feared that powerful and failed men would substitute their daughters, wives and sisters as proxies in political office – possibility yes but certainty no!
Similar fears were expressed when reservation was introduced in 1994 in 'Panchayats' or village councils. Contrary to these fears and doubts, the reservation experiment and experience was hugely successful. It became an incentive for women at grassroots level. "Women who head panchayats have proved to be more focused than men on the real issues of roads, health, schools and water" according to Ranjana Kumari, head of the Centre for Social Research. In fact, in some states, women's representation in panchayats has risen from 33 per cent to more than 40 per cent. How? Many women have contested and won unreserved seats! "A million women are being elected to the panchayats in India every five years. This is the largest mobilisation of women in public life in the world."

In February 2010, a dusty little village near Jaipur elected a woman Sarpanch (Head of the Panchayat) – not exactly Breaking News. But what made this news different was the fact that Chhavi Rajawat, the new Sarpanch of Soda village, is light years removed from the typical profile of a Sarpanch. The 30-year-old goes about her business in the village in jeans and a loose top; she has a management degree; has been a part of the corporate world; and runs her family's hotels and a riding school in Jaipur. "We were not happy with the previous sarpanch and decided to field Chhavi against the sarpanch's wife in the recent elections. She (Chhavi) is the daughter of our village and we knew she would not let us down," say the villagers of Soda. Chhavi's grandfather Brig Raghubir Singh had also been the sarpanch of Soda, many years ago. Chhavi's focus is on bringing safe drinking water and increasing job opportunities for the youth in the village by involving NGOs. "Water is a big problem here because of its high fluoride content. My focus is on ensuring clean drinking water for each villager. I'm already holding talks with a firm that deals in reverse osmosis (RO)." Helps to have educated people at all levels – simplifies simple solutions. "In fact, my business management degree is helping me take care of the village better", she says.
However, the Rajya Sabha vote is only Step 1 in the process of amending the Constitution. It has to be passed by the lower house of Parliament, the Lok Sabha, and then approved by at least half of India's state legislatures before the Presidential seal enacts it into law. It is still a long road.
The world's most populous democracy is strongly male-dominated, with deep gender disparities. Women still suffer disproportionately from illiteracy, poverty, ill health, low social status – and low self esteem. Majority of Indian women lag behind men in virtually every sphere of life. The Women's Reservation Bill hopes to correct these disparities.