Jim's Jungle Retreat
– Wild Chic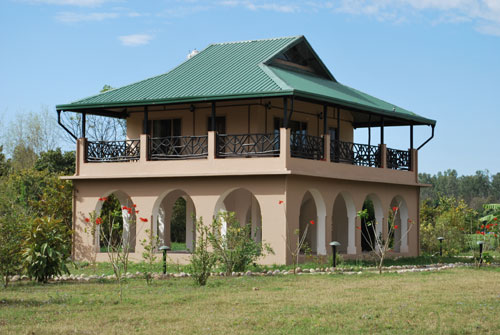 A Jungle Lodge at Jim's Jungle Retreat

Jim's Jungle Retreat, on the edge of the southern forests of Corbett National Park, is a friendly, year-round resort, which opened not too long ago, on fifteen picturesque acres with views of the forest and plenty of wildlife around. It has class, exclusivity – and also sustainable green practices.

Situated near Dhela village, a thirty-minute jeep ride from Ramnagar station, Jim's Jungle Retreat is well away from the mayhem of other 'resorts' bunched together around Dhikuli village, near the entrance to Dhikala zone.

As we neared the Retreat, Krishna, the driver who had picked me up from the station, pointed to the fallen trees and trampled bushes, just outside the property. "Elephants!" he remarked. "They come here at night and destroy crops and trees."

It was past 10 PM as we got out of the jeep near the Reception. A smiling Majid was at the steps to welcome us – there was a group of four from Mumbai as well. I noticed the black board next to the reception desk with recent entries on sightings by guests. A tiger had been sighted just two days earlier. There was hope! I was escorted to the individual lodge I would be staying in for the next three nights. Built on concrete stilts, a flight of stairs led up to a spacious veranda, and into a large, elegantly furnished room. A sumptuous dinner was waiting at Gol Ghar – the dining area overlooking the pool. Majid joined us briefly, only to inform us that we would be woken up at 5 AM for the morning safari to Bijrani!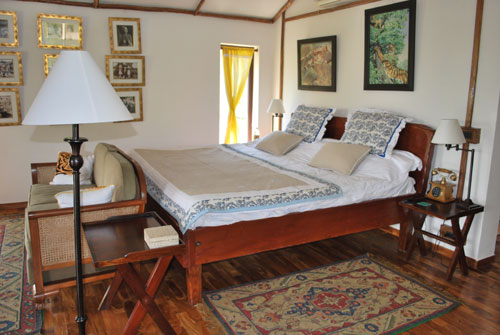 Within the Jungle Lodge

The Retreat's 20 stylish units – a mix of lodges, cottages and tents – are almost always occupied, very often with returning guests. There is no phone service, no internet, no television. Instead, there is a nightly bonfire under a ridiculously perfect night sky. The entertainment is real – exchange of stories, punctuated by nocturnal animal calls. Imran Khan, who leads the team at the Retreat, is a wildlife biologist and naturalist. He joins guests for walks and wildlife slide shows, eager to share his wealth of information with them. He can identify several birds by their call – often being able to communicate with some of them in their language!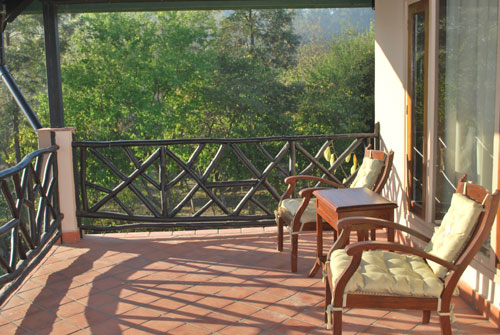 The Lodge sit-out

Inder Akoi, a conservationist, founded Jim's Jungle Retreat to offer visitors a true wildlife experience and to bring employment opportunities to the local people. Together, he and his son Daleep have encouraged real and sensitively-managed eco tourism: walking and trekking in the forest adjoining the Retreat to see the myriads of wonderful plants, birds, and animals. Trees and shrubs planted at the retreat ensure exciting birding opportunities from the verandas of cottages and lodges!

The extremely helpful staff at the Retreat arrange itineraries and organise all the excursions one wants to go on –be it jeep or elephant safaris, bicycle trips, angling, walking trails, or heritage trails.

Jim's Jungle Retreat is that rare sort of place that one wants to go back to – again and again – and yet again.