A Royal Gathering of Classics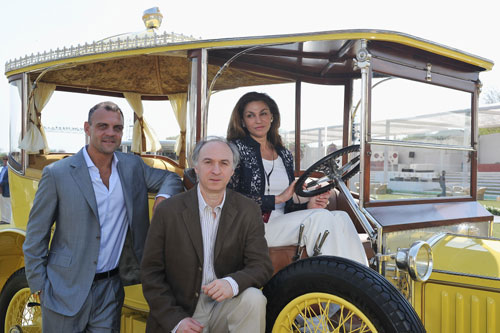 L-R: Prince Alexander Azam Jah, Prince Azmet Jah and Princess Shehkar Jah in their 1911 Rolls Royce Silver Ghost Throne Car. The erstwhile Nizam's Classic was the winner of The Best Car of the Show at Cartier 'Travel with Style' Concours d' Elegance 2011 in New Delhi.
The Jaipur Polo Ground, just across from the Prime Minister's residence in New Delhi, within the capital's oasis of greenery and privilege, was wrapped up in soft sunlight on the afternoon of March 12 - the field dotted with a collection of rare and stunning 56 classic automobiles from royal garages across India, and many belonging to private collectors. Cartier 'Travel with Style' Concours d' Elegance 2011 showcased this extraordinary collection of classic cars in a private viewing - the second of its kind in India.
Cartier hosted the first ever international Concours D' Elegance in India at the Royal Western India Turf Club Mumbai in 2008. It was a historic moment in the history of Indian motoring - the beginning of the classic car movement in India. Sixty-four of the most rare and historically significant automobiles, owned by Indian royalty and private collectors, were displayed in public for the first time, bringing alive the eccentricities and uniqueness of the Indian automobile industry. The former Maharajas bought the finest cars in the world and commissioned some of the greatest coach builders and designers to produce lavish, distinctive and sometimes bizarre creations.
Read the entire article in the print edition
subscribe@the-south-asian.com