Issue 4 / 2001
New! Databank! Basic Comparative Data on south Asian countries
Highlights of April issue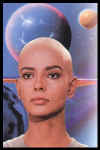 Parsis are Zoroastrians who arrived in India 1200 years ago from Persia. They were fleeing persecution at the hands of Arab conquerors invading Persia. They landed in Diu, off the coast of Gujarat in India, carrying nothing but a holy flame from their Temple they had left behind. That was 1200 years ago.The contribution of this dynamic Indian community in all spheres of Indian life – arts, sciences, politics, business, and foremost of all – in social commitment and philanthropy - has been phenomenal. Despite their meagre numbers, the Parsi community did not seek any special privileges under the Constitution, and yet played a large role in the development of the country. Jamsetji Tata, JRD Tata, Godrejs, Wadias, Dr. Homi Bhabha, Zubin Mehta, Retd. Field Marshal Sam Maneckshaw, Admiral Jal Cursetji, Air Marshal Engineer, are all from this very distinguished community. Indira Gandhi married into the community and so did Mohammad Ali Jinnah's daughter, Dina Wadia.
South Asian Women Leaders
- "accident of gender" or "accident of birth"
Unlike women leaders and Prime Ministers elsewhere, the existing south Asian pantheon of women leaders has not risen from the political ranks, nor have they had any work experience in any sector of the economy. All, with the exception of Indira Gandhi, were inexperienced as politicians and some were homemakers and mothers. Yet they have been Prime Ministers and President. They were fast learners though. South Asian women need to change this record of political inheritance. There are among them, many who are talented and politically gifted to enter the political arena on their own merit.
Music of Pakistan - The Story of Five Decades




Pakistani film music, qawwalis, and ghazals have enjoyed a robust period for the last 50 years. Classical music, however, had to fight for its survival. The last 50 years have also been the era of folk music. More recently, pop music has blended folk themes with western pop themes. Noorjehan, Nusrat Fateh Ali, Mehdi Hasan, Pathaney Khan, Talwandi Gharana of dhrupad, and Junoon - all have a major following.

Sufis - Wisdom against Violence
Sufis, escaping violence and persecution in west and central Asia, came to India , settled there and wrote of love. Baba Farid, Bulleh Shah, Madho Lal Hussain, Kaki, Moinuddin Chishti and many more belonged to different Sufi orders - but the essence of their teachings was the same - universal tolerance. Their writings are alive with themes of love, peace, reflection, generosity and faith - in simple peasant metaphors.

'Crouching Tigers, Hidden Dangers'
The Royal Bengal Tiger's last roar


Tiger, the arrogant and proud king of the jungle, whose realm was unchallenged even by the likes of Alexander, Changez Khan and Tamur Lane, fell prey, first to the greed of hunters in quest of 'trophies', then to the mercenary poachers – who traded every organ of the tiger for money, and most recently to 'planned development' encroaching on tiger territory. A hundred years ago there were over 100,000 tigers – today there are perhaps less than 5,000 – 95% have been wiped out. Of these 5,000 about 3500 are hiding in India – in scattered pockets called Reserves - and the remaining in Bangladesh.

Fast Foods - The 'E' Cuisine
Fast food is beginning to get tastier and crisper. The discerning epicures who cultivate the fast food culture pay out $100 billion for 'food' laced and garnished with preservatives, flavourings, sweeteners and colours of all hues - the tempting French fries carry no tales of the medium they have been fried in or the flavours and enhancers that have been added to them. Fast food outlets and chains are increasing rapidly and so is the incidence of Attention Deficit Disorder [ADD] and Hyperactivity among children.

Books

'Parsis - the Zoroastrians of India'
by Sooni Taraporevala

'Silk Road on Wheels'
by Akhil Bakshi