Ameena Ahmed
- CALLIGRAPHY'ING' POETRY ON CANVAS
by
Sanjay Austa


Ameena Ahmed…Re-asserting calligraphy's relevance
At a time when the art of calligraphy is dying an unsung death, Ameena Ahmed is busy reasserting its beauty and relevance.
She believes in the old Sanskrit adage that sound should be seen and colours be heard. As a calligraphic artist that is what Ameena Ahmed has been striving for over half a century.
At a time when calligraphy has virtually died as an art form, Ameena emerges to reassert its beauty and relevance. She is not just happy drawing out elaborate letters but in her unique style she moulds calligraphy and poetry into evocative animal and bird forms.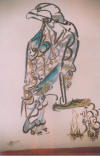 Poetry turned into evocative forms
Ameena takes verses from great Urdu or Persian poets like Rumi and Faiz Ahmed Faiz and fashions them into evocative animal or bird forms. The verses encased are often indicative of some characteristics of the animal she has etched out. What emerges out of this medley of calligraphy, poem and figure are some exquisite paintings.
It is these paintings that have won Ameena appreciation not just in the Indian sub-continent but all over the world. Though she has exhibited her works in various countries her calligraphy is more sought after in America and Latin America where documentaries on her art have been aired on many prestigious television channels. Besides, Moscow Television has made two films on her while BBC has three documentaries on her work.
Now Ameena is embarking on what she calls her most prestigious tour - to neighbouring Pakistan. "The Pakistan Ambassador called me up and extended an invitation for me to exhibit my work there. I am thrilled as I've never been to Pakistan before," says Ameena whose paintings will be exhibited in Islamabad, Lahore and Karachi.
"Calligraphy may have gone out of fashion but I have been fascinated by it since I was a student," says Ameena who was married to the late Vishnu Ahuja, former Ambassador to the erstwhile USSR. In fact wherever her husband got posted Ameena built a circle of admirers and friends whose love for the ancient Islamic art has translated into invitations, exhibitions and acquisition of her art.
Painter-Poet
What is it that makes her paintings so different? Ameena believes it is her eye for detail and ear for poetry. Her vocation as a painter and her instinct as a poet help blend the two. She can rattle off nazams of not only popular Urdu poets but also obscure Persian bards of yesteryears. She says she owes her own poetic sensibilities to her father Nuruddin Ahmed, a barrister and ex- Mayor of Delhi.
"My father was a Persian and Arabic scholar and I grew up with the world of poetry around me. He was the one who introduced me to calligraphy," she says. Her mother was British who passed on to Ameena not just her blond hair, white skin and a distinct English accent but also her creative genes. "My mother was a painter and loved the Urdu language," she reminisces.
This perhaps explains why in all her paintings there is an attempt to compliment the verse and the figure. However the verse is usually in the animal or bird form. But Ameena says the verse is there only for ornamental purposes. "The verse is not for reading. It is calligraphy and can be appreciated as art. But for someone who knows Persian and Urdu it is not very hard to read the verse as well," says the artist.
Ameena says it is her love for Urdu that makes her paint and because her work is appreciated she continues to do calligraphy even if its relevance may be fading. "It's my devotion to this art that keeps me going," she says.
Why does she use birds and animal figures? Ameena says her love for animals began after she read about them in the Babur Nama and the Panchantantra. She discovered that writers and poets like Pushkin, Cervantes, Rumi and Ghalib often used animal motifs. "I discovered that animals and birds were perfect metaphors for artistic expression."
Most of the paintings are black and white with a dash of colour thrown in. However, Ameena's miniatures are colourful and lively. She uses special handmade paper from India and rice paper imported from Japan and paints with the ancient qalam or reed pen.
Besides being a noted calligraphist Ameena is also a linguist. She is proficient in more than six languages including Persian, Russian, German and French apart from Hindi and English. She was the official translator for a line of Indian Prime Ministers - from Pandit Jawaharlal Nehru down to Rajiv Gandhi.
She was the official interpreter when leading Soviet leaders like Bulganin, Krushchev, Kosygin and Brezhnev visited India. Besides being a government interpreter she has also translated two volumes of Chekhov's short stories in Urdu and English. And as if that was not enough she has also taught Russian at the Jawaharlal Nehru University for many years. A gifted lady, to say the least.
*****