South Asians in Spotlight
The year end has seen several South Asians making news - in fields as diverse as sports, fashion, and music - in ages as far apart as eighteen and 40+.
Vijay Singh named The PGA Tour Player of the year


Vijay Singh - PGA Tour Player of the Year 2004
Vijay Singh won the PGA Tour player of the year award Monday for the first time.
Singh won the award and the accompanying Jack Nicklaus Trophy for the first time, breaking Tiger Woods's five year hold on the award.

Singh's track record for 2004 reads as follows:
He won nine titles in 2004 including a third Major at the US PGA Championship, and also the Deutsche Bank Championship
He became World Number One for the first time.
His earnings of over $10 million made him the first player to surpass the $10 million mark in one season and earned him the Arnold Palmer Award for topping the Money List.
He also picked up the Byron Nelson Award and the Vardon Trophy for the lowest stroke average of 68.84.
His won three successive titles.
He is the second non-American player to win the award after Greg Norman in 1995.
Amir Khan, the Olympic boxing silver medallist from UK, won a comfortable victory over USA's Michael Evans.


Amir Khan - the new British hope


Photo courtesy BBC

A week before his eighteenth birthday, the British lightweight boxer Amir Khan was victorious over USA's Michael Evans. He won 35-13 on points.

"It was the perfect fight since I hadn't fought for a long time. I have only trained for two weeks," said Khan. "I have to give him 100-percent credit but I was never nervous because I know I can go four rounds with any fighter in my division in the world."

Khan is under pressure to turn professional but he insists on remaining an amateur for the time being.

Ashish Gupta - a surprise new entry to London Fashion Week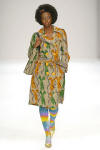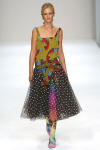 Ashish Gupta - 'Pop-African with a splash of Bollywood'
A graduate of Central St. Martins, London, Ashish Gupta was the obvious favourite at the London Fashion Week . His clothes are described as Pop-African with a splash of Bollywood. Critics and admirers have called his collection "amazing", "highlight of the day", "vibrant", "happy", and "magical."
Raghav wins the MoBo (Music of Black Origin) Award


Raghav - making tracks

At the Mobo awards held in London, Raghav won the Best collaboration award for his work with 2play. His track 'Angel Eyes' will certainly put his name on the 'A' list of contemporary artistes.
*****