JANUARY 2002 Contents
Literature
Pakistani Literature
- Evolution & Trends
Visual Arts
South Asian Art - shared
cultural frontier - shared
cultural frontier
Rare photographs of Indian
nobility found at Lafayette
Outlook
Technology
India & China - major global
players by 2025
Foreign Investors in India's
IT Industry
People
Sports
Books
'Knock at Every Alien Door'
- Serialisation of an
unpublished novel by
Joseph Harris
Society
Books

Silk Road on Wheels

The Road to Freedom

Enduring Spirit

Parsis-Zoroastrians of India

The Moonlight Garden

Contemporary Art in Bangladesh
Page 2 of 3
MAHARAJAS AT THE LAFAYETTE STUDIO
(cntd)

by
Kavita Devgun
Major General Maharajdhiraj Sir Bhopal Singh of Udaipur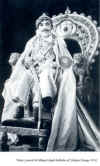 When Maharajdhiraj Sir Bhopal Singh Bahadur of Udaipur visited London ion 1933 for his knighthood, he visited the Lafayette Studio and had many photographs taken against different backdrops and in various dresses. When he was 16, the Maharajdhiraj contracted tuberculosis and a disease called Pott's Curvature of the Spine. Unwilling to consult British doctors, the palace medical supervisors allowed him to continue riding with disastrous results. The disease left him paralysed waist down, confined to a wheelchair and without heirs.
Nawab of Bhopal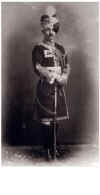 The Nawab of Bhopal or, more appropriately, Major General H.H.Sikander Saulat Iftikar Ul Mulk Nawab Hafiz Sir Muhammad Hamidullah Khan Bahadur. was destined to succeed Jinnah as the second Governor General of Pakistan but was forced by pressures of his responsibilities in India to forego the honour when Jinnah died suddenly. His photograph was taken on his visit to England in 1925 along with his mother, who was trying to assure his succession with the British government.
Sir Ranjitsinhji Vibhaji, popularly known as Ranji---one of the world's best cricketers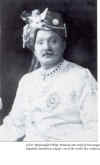 The portrait of Sir Ranjitsinhji Vibhaji bears remarkable resemblance to his descendent, cricketer Ajay Jadeja. Ranjitsinhji, like his legatee, is known for his cricketing skills and it was after him that the Ranji trophy was instituted. His photograph captures him in his ceremonial dress and sword, with an emerald and diamond necklace embedded with 277 carats of the best emeralds in the world. Royalty at its opulent best.
Baba Khem Singh Bedi, the fourteenth spiritual head of the Sikhs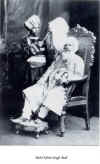 One of the rarest pictures of the selection is that of Baba Khem Singh Bedi, who was the fourteenth spiritual head of the Sikhs by direct descent from the founder of their faith, Guru Nanak. He did much to maintain the martial spirit of the Sikhs by encouraging recruits to join the various Sikh regiments. He gave away liberally for the purpose of education, and at least fifty schools were opened for boys and girls in Punjab with his help.
In 1883, on the occasion of his daughter's wedding, he donated Rs. 300,000 to religious and charitable causes. Half this amount was used for establishing a college in Rawalpindi. This photograph was taken in 1902 when Baba Bedi was invited to England as an official representative of the Punjab at the Coronation of King Edward Vll, (Image dated 1902)
Copyright © 2000 - 2001 [the-south-asian.com]. Intellectual Property. All rights reserved.