Page 1 of 3

MAHARAJAS AT THE LAFAYETTE STUDIO


A rare exhibition of photographs of Indian royalty and nobility, taken at Lafayette (between 1897 and 1935), the oldest studio in the world, was on display in Delhi recently. The exhibition of these rare photographs was organised by Roli books, in collaboration with the Victoria and Albert Museum of England.

by

Kavita Devgun

Founded in 1880 in Dublin by James Stack Lauder, under the professional alias James Lafayette, Lafayette Studio boasts of an institutional memory that goes deep into history. The oldest photographic business in the world, it possesses pictures of a succession of Kings, Queens, Viceroys, Vicerines, spiritual leaders, business achievers and society ladies. Rulers and royalty from the princely states of India too, sailed across the seven seas to this studio, specifically for formal portraits.

After the liquidation of the studio in 1952, the company's archive of negatives was stored in an attic where it lay forgotten until 1988 when the foreman of the decrepit building uncovered it. The negatives became a part of the annals of the National Portrait Gallery of England.

Prints developed from the collection were exhibited all over the world. And now, the curator Russell Harris has brought a collection of portraits of the royalty of India in their ceremonial robes, to Delhi. According to Ratna Sahai, publishing manager of Roli books, " This was a flagship exhibition. Now, spurred by the response, we intend to take it to Jaipur and Chandigarh next, and then onto other locations all over India."

The collection is as captivating as it is intriguing.

Sirdar Charanjit Singh of Kapurthala…Striking a royal pose.


The Maharaja of Kapurthala, Sirdar Charanjit Singh visited England in 1920, at which time this photograph was taken. It was mentioned in the Court Circular of June, 9 1920: " Sirdar Charanjit Singh of Kapurthala gave a dinner party at Claridges Hotel last night to meet the Secretary of State for India Mr. Montague. The Sirdar proposed their health in a short speech, to which Mr. Montague responded."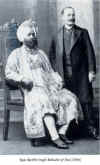 Raja Ranbir Singh of Jind got this photograph taken at the Lafayette in 1906.
Mysore's Yuvraja Sir Kanthirava Narasimharaja Wodeyar Bahadur.

The ruler of Mysore, Yuvraja Sir Kanthirava Narasimharaja Wodeyar Bahadur [1888-1940] was the second son of the last Maharaja of Mysore, Jayachamarajendra Wodeyar. In the picture taken at Lafayette, the Yuvraja is seen wearing a fine cotton turban with gold brocade edging and a brooch in the form of a two-headed eagle - the emblem of Mysore.
Like many members of the ruling class, the Yuvraja stayed in London for almost six months. He arrived in London on 2 June 1920 and, according to a news report printed in The Times on October 15, 1920, was received by the King, together with the Maharaj Rana of Jhalawar.
Copyright © 2000 - 2001 [the-south-asian.com]. Intellectual Property. All rights reserved.