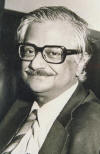 Dr. Raja Ramanna
10 July 1926 - 24 September 2004
(Photo K L Kamat)
Dr Raja Ramanna, the nuclear scientist, died aged 78 following a heart attack, on September 24, 2004. He was the man behind India's first atomic test thirty years ago.
Born in Bangalore, he graduated in science from Madras Christian College and completed his PhD in physics at King's College London. In 1949 he joined the Indian nuclear science programme under the leadership of Dr Homi Bhabha.
Ramanna headed the Bhabha Atomic Research Centre in Mumbai for two periods (1972-78 and 1981-83). He was also chairman of the Indian Atomic Energy Commission, and secretary of the department of atomic energy from 1983 to 1987.
"Ramanna was also a gifted musician, and could play the piano as dextrously as he could speak about atomic energy. Music was close to his heart, and one of the two books he wrote was The Structure Of Music In Raga And Western Systems (1993). The other was his autobiography, entitled Years Of Pilgrimage (1991)."
Ramanna was interested in Buddhist philosophy and remained director emeritus of the Bangalore-based National Institute of Advanced Studies until his last days.
He is survived by his wife, two daughters and a son.