Page 3 of 6

Elephant Polo in Nepal
(continued from previous page)
By Laurie F Jones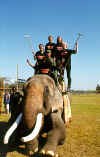 The International Tigresses
The International Tigresses showed the world that last year's third place showing was not a fluke as they battled their way through a very difficult lineup onward to the semifinals and defeated a very strong Tiger Mountain India team in the 3rd/4th playoff. The Tiger Mountain India team returned after it's 1997 triumph to attempt to win the Championship again.

The Indian ringers, Gurpal and Jaya Singh and Yuvraj Vikramaditya, with the assistance of last year's most valuable male player, Bhim Bahadur, played valiantly and certainly did their best to outperform the competition. The team did make it to the semifinals, but were unable to match the ferocity of the Tigresses and ended up placing fourth in the competition.
Off the pitch, Gurpal, Jaya, Vik and his elegant wife Yuvrani contributed most pleasant conversation and humor to the mix of polo players. Knowing Gurpal and Jaya, they will most likely (and hopefully!) be back for redemption of their championship berth.
The Titanic Tracks, placed 5th in the tournament, returned for their second year. They played hard and well and were able to triumph against the Screwy Tuskers in the Quaich Final to win the coveted award.

The members of the team are connected through their former military careers, as reflected by tank-driving elephant in their logo. Jean Bentley was the team's Chilean connection, having come into the world in that beautiful country. On numerous occasions Jean was prepared to treat the lodge with a solo performance of the Chilean National Anthem, but between Richard Croft-Baker's belting out gospel music in an attempt to out-sing Tsogt (the Chinggis Khaan Polo Club representative), who was continually crooning Mongolian love ballads at the bar, poor Jean wasn't able to get a note in edgewise.
Captain Croft-Baker continued his tradition of philanthropic efforts by making a generous donation to the Tiger Tops-Swiss Air preschool located close to Tharu Safari Lodge. Miss Nepal and most of the Tigresses accompanied the Titanic Tracks to the preschool for a delightful ceremony in recognition of the donation.
In addition to their success on the pitch, the Titanics won the unofficial after-hours award for Best Mingling, as reflected by their cigar smoking, hair sniffing and severe depletion of the red wine supply at the lodge.