Reminiscing Trisul 1951 - A Watershed in Indian Climbing
By Gurdial Singh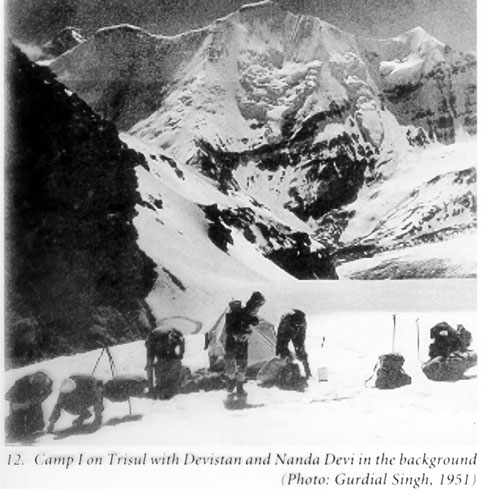 Sixty years ago Gurdial Singh climbed Trisul – 23,360 feet.
He was accompanied by Roy Greenwood, Sergeant-Instructor at the Indian Military Academy, and Dawa Thondup, a Sherpa 'Tiger', who had earned renown on Everest and other major peaks.
The ascent of Trisul was not a first, for it had been climbed twice before, the first time as early as 1907. Nor was it a peak that presented exceptional technical difficulties. Yet there is an aspect of the climb that gives it historic significance. It was the first time that a major peak had been climbed by an Indian. "It was when Gurdial Singh climbed Trisul in 1951 that the age of mountaineering for Indians began," wrote Harish Kapadia, a chronicler of the Himalayan scene. The Indian Mountaineering Foundation (IMF), which was established a few years after this climb, recognised it as the 'beginning of Indian mountaineering.'
The history of mountaineering in the Himalaya from around the turn of the nineteenth century, exclusively by foreigners supported by mountain porters, is a fascinating saga of adventure and exploration of the unknown. At a time when climbing equipment of the kind available today was rudimentary and accurate mapping had yet to be accomplished, it seems incredible that Dr. Tom Longstaff succeeded in climbing to the summit of Trisul at an elevation of 23,360 feet as early as in 1907 – which remained an altitude record of summits climbed for the succeeding 24 years.
This was the inspiration that led four of us to make a bid for Trisul in June 1951 with a happily successful result. We did not of course realise then that this event would count as a historic first ascent of a major Himalayan peak by an Indian team, thus also marking the beginning of Indian mountaineering. It was also significant that three of the four members had Doon School connections. The Doon School was indeed the nursery that produced the earliest mountaineers of great distinction.
Scarcely had Roy Greenwood and I returned from the trip to Bandarpunch in 1950 than we started making plans for the following summer. Having considered various high-altitude treks, we decided on Trisul(23,360 feet). Greenwood left both the task of forming a party and the organisation of the expedition to me. The former was readily accomplished. Two old boys of the Doon School, Surendr Lall and Nalni Jayal, who had long desired an introduction to the high hills, were invited to join the party. Their acceptance ,eant that whatever the fate of the expedition might be, we kindred spirits all, could at least be sure of the lasting satisfaction of congenial company shared and enjoyed in a mountain venture. The average age of the part y was 25 and not all of us were certified climbers.