TATTOOS OF DESIRE
by
Sanjay Austa


Small screen idol Rohit Roy sports a Lord Ganesh tattoo
Photo: Ashish Rane
Tattooing is suddenly a fashion statement. Till some years ago, only the flower children and hippies sported tattoos. Today, they are a rage not only with college-goers but also with housewives and boardroom directors. Once upon a time, if you wanted a tattoo you trekked down to the Hanuman temple area in Delhi where you could have religious symbols impressed into your arms with unsteady hands and unsterilised needles.
Today there are parlours with tattoo artists many of whom have been trained abroad, and etch whatever design you can dream of. Of course, all that for an exorbitant fee - ranging from Rs. 2,000 for a small tattoo to Rs. 50,000 for a full back tattoo.
Tattoos remain for life. Social or parental backlash is not a hassle anymore. There are instances of parents following the children. 24-year-old Rochie Rana's mother took an instant fancy to her daughter's tattoo and got one done on her arm as well.
Painful Procedure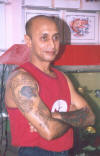 Tattoos - the new fashion accessory - but it is forever.
Pain is the only deterrent but for the tattoo-lovers the thrill of getting that cute devil on the collarbone works like anesthesia. The process indeed hurts. The needle of the tattoo machine bores down to the dermis - the deep layer of the skin. The electronic tattoo machine punctures the skin rapidly. The tattoo artist then injects colour into the small holes.
Tattoos are for keeps. This is not an accessory you can unhook and take off in a hurry. Your skin may wrinkle and sag , your hair may fall, gray or curl up but the tattoo neither ages nor can it be washed away—unless, of course, if you can afford the services of a cosmetic surgeon to erase it.
Once the deed is done there is no scope for regret. " Because it stays with you for the rest of your life one has to think it over properly before getting it done'', says Deepti a 26 –year-old graphic designer who has a sea- horse tattooed on her neck.
Michael –a full time tattoo artist in the capital admits there is nothing like the distress of living with a tattoo you don't like. "I always counsel people and tell them how they will have to live with a tattoo for their entire live," he says. But for most tattoo-lovers the entire appeal of tattoos is that they are everlasting.
Intriguingly most people cannot be happy with just one. Tattoos are addictive. Vinaya, a 29-year-old lady working with an MNC had an anklet tattooed on her right leg last year and this year she got her back needled with the picture of the superwoman.
Rochie says getting a tattoo on her body was the best decision of her life and she would want to have tattoos all over her body. "First time I thought I would have a small tattoo on me and that's it. But I am a convert now. Tattoos give you a strange thrill. You are carrying a piece of art on your body after all," she reasons.
Tattoo artists admit that like any other fashion, tattooing too is ephemeral. "It will be around for a few years before fading away," says Kevin, business partner of Michael. But right now the going could not be better as both of them work seven days a week. No client is turned away unless he or she is under 18 years.
Body Ornamentation
Apart from body ornamentation tattoos are sometimes used to hide birthmarks, ugly operation scars or to darken non-existent eye-brows. "It is the age of the cosmetic tattoo. We get a lot of cases where people come to cover up or beautify their not-so-appealing body areas," says Kevin.
Tattoos may have caught the attention of the yuppies of late, but they have been around for centuries. The mummy dating back to 5000BC, found in the Alps in 1991, had tattoos on it. The Romans were known to tattoo their criminals and slaves. Hitler tattooed the Jews. The tattoos lost their appeal with the advent of Christianity and were considered irreligious.
However in cosmopolitan cities across the world there has been a sudden revival and tattoos are now spawning a new religion.