Rajmata Gayatri Devi – a toast to Elan!
By Roopa Bakshi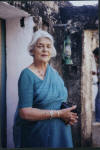 The ever-glamorous and ever-modest Rajmata Gayatri Devi of Jaipur has probably been in media spotlight longer than any other individual. Her charm, beauty, and grace, forever a subject of awe and admiration, remain unmatched. She opted out of politics after three successful terms in parliament and –ended, thereby, a potentially great political career that may have taken her to even greater heights of popularity. The Rajmata turns ninety on May23, 2009.
Rajmata Gayatri Devi (or The Queen Mother) as she is now known, lives in 'Lilypool' – a home she and her husband built for themselves in the sixties – amidst the serene and tranquil surroundings of their Rambagh Palace (now hotel). Just off one of the main avenues of Jaipur, 'Lilypool' is surprisingly peaceful. It is not a pretentious royal abode -its warmth is welcoming and home-like. Rajmata's love for family, horses and flowers is immediately apparent. Fresh lilies, gladioli , and family photographs abound in the room, hedges trimmed in the form of horses can be seen outside. As I waited in her bright and cheerful sitting room, with a grand view of the garden outside, I sat amidst photographs of a regular family – giggling toddlers, family groups – and here the past and present mingled so fluidly. A large portrait of her mother, the late Maharani Indira Raje of Cooch-Behar, adorned a wall of her living room.
It has been an eclectic journey of nine decades for Rajmata Gayatri Devi – a carefree

childhood as the Princess of Cooch-Behar, a fairy-tale romance that culminated with her marriage to the Maharaja Man Singh II of Jaipur, a transition from the west-influenced Cooch-Behar to the conservative Jaipur court (a transition made easy by her immensely supportive husband), the birth of a son, involvement with education of girls, public and social commitments, stepping into politics, record-making election victory, string of personal tragedies, imprisonment , and her work for the economically disadvantaged – all with amazing grace and dignity.
Maharani Gayatri Devi, as she was known till she lost her husband, has been the most talked and written about royal – for her beauty, charm and style. Universally acknowledged as one of the ten most beautiful women in the world, she breathed life and elegance into her pastel chiffon saris and remains a fashion icon – without any 'designer' support.

BUT, and more importantly, she is not just a pretty face. She was a major player in Indian politics in the 60s and the 70s, when she put her whole-hearted support, with which also came her name and iconhood, behind the Swatantra Party - whose liberal, secular, and nationalist tone reached out to moderates across the country - Hindus and non-Hindus - in ways no other opposition party could. Its ideology of free enterprise had a pan-India appeal amongst traders, businessmen and even farmers. Founded in the 50s by C. Rajagopalachari, a prominent freedom fighter from southern India known popularly as Rajaji, the party opposed socialism and the rigid controls at the time on free enterprise. Though an erstwhile Congressman, Rajaji's moderate views

forced him to split from the Congress. It was for a time the largest opposition group in the Parliament. Maharani Gayatri Devi , in her political career, won three elections to the Lok Sabha – in 1962, '67 and '71 and became one of India's most well known public figures. In fact she is recorded in the Guinness Book of World Records for winning the largest-ever electoral majority (in 1962 elections) in a parliamentary race.
Imprisoned on a flimsy tax-evasion charge during Indira Gandhi's government, in Delhi's notorious Tihar jail, and deprived of basic comforts in the jail for five months, Gayatri Devi emerged as the dignified and ultimate winner from this trial of human grit and patience. She retired from politics shortly after her release from Tihar – not wanting to fight the 1977 elections.
It is my personal belief that Rajmata Gayatri Devi could have been the obvious and the natural successor to Rajaji as leader of the Swatantra party. Her background and popularity would have made her a great national leader – it could have saved the party from the decline it suffered. The Swatantra party was a plus point in the Indian political system.
The death of her husband Maharaja Sawai Man Singh II in 1970, ended what was a great marriage and an even greater friendship between the two – and then in 1997 she lost her only son Jagat Singh, Raja Saheb of Isarda, survived by his two children, Lalitya and Devraj, by his ex-wife, a Thai princess, Priyanandana Rangsit.
Rajmata's positive spirit saw her through personal tragedies. Not the one to dwell in the past or in nostalgia, Rajmata involved herself in funding and supervision of charitable projects for the poor, with particular focus on women and children. And life moved on.
Rajmata Gayatri Devi would perhaps be the original People's Princess – before it became fashionable for princesses to be considered as one. At ease with people from all walks of life, Jaipur is where she feels she truly belongs. Though her father Maharaja Jitendra Narayan was from Cooch-Behar in Bengal, her mother Maharani Indira Raje from Baroda, and she married into Jaipur's ruling family – it is Jaipur, where she arrived as a young bride of twenty, which is closest to her heart. This is where she set up three schools – one of which, Maharani Gayatri Devi Girls' School, an exclusive residential/day school for girls - became the first school for girls to be recognised by the Indian Board of Education.
A lover of the outdoors, Rajmata was a keen equestrienne, and has her own stables where she raises race horses. She visits the stables every evening, always with goodies for the horses. Tennis and shooting were her other passions, and she enjoyed driving around in her Ferrari. Her 1976 memoir, A Princess Remembers, became a best-selling book in many languages. It later became the basis of a popular French documentary.
Rajmata, soon to turn ninety, may not be in the fast lane – but her spirit and the joy she feels for life is still visible in the twinkle of her eyes and her subtle sense of humour. She may not be socializing much – but she visits the Shiva temple on Moti Doongri every day. Moti Doongri, which belongs to Rajmata, is a quaint little fort atop a little hillock that was once considered the outskirts of Jaipur, and is now almost hidden from view by the heritage-disrespectful builders and building-laws. Moti Doongri was one of Jaipur's most distinctive landmarks - it looks surreal and afloat when lit up from below at night. Jaipur was once a visually aesthetic city. It had a distinctive skyline, with forts and walls atop the surrounding hills, and a regal aura – once.
May 23, 2009 will be her 90th birthday – and in honour of the occasion a new coffee table book is all set to be launched that day. Authored by Dharmendar Kanwar, the book will include reproductions of old letters, cards and other memorabilia. Ms. Dharmendar Kanwar has been closely associated with the Rajmata for many years and has tried to bring out some little-known aspects of her life.