Attire & Accessories- Cotton tops, silver jewellery, handbags
IN THE FOOTSTEPS OF THE INDIAN NATIONAL ARMY
CD-ROM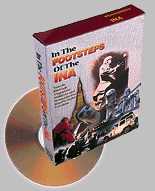 The CD-ROM narrates the story

of the INDIAN NATIONAL ARMY through the eyes of the Azad Hind Expedition as it journeys from Singapore to Delhi through Malaysia and Burma.

The interactive CD-ROM besides containing and enhancing the entire text of the book, THE ROAD TO FREEDOM, also features images, audio, video and animation.

The CD-ROM begins with a prelude consisting of a series of short video

statements by the main protagonists about the expedition and the INA march. This is followed by an introduction by the author and expedition leader, Akhil Bakshi.

The interactive element of the CD ROM allows you to go to the section of

your choice and interest. It is divided into four main sections:

1. The Book: This section contains all the text from the book THE ROAD TO FREEDOM with

enhancements in the form of extensive hypertext linking.

2. The Road: This part covers the route taken by the Expedition following the trail of INA. One can visually trace the path by clicking on the place names as marked on the route. Doing so leads you to the details of that particular place with its past and present descriptions. It also allows access to information based on events that took place (past or present), or about the people involved.

3. The Army: This part includes the history of the INA and a section on their memorabilia. It also includes screens about INA insignia, marching songs, ranks, postage stamps and various other objects and ideas connected with the Freedom Army.

4. The Leader: This section of the CD-ROM celebrates the 100th birth anniversary of Netaji Subhash Chandra Bose and provides a view of his life with all its landmark events. A sub-section contains his speeches and video clips from diverse archives.

The Road to Freedom CD is available for US$ 29.99 + shipping & handling

To order your copies of the CD, please fill in the number of CDs you require and submit your mailing details to us. We will dispatch your order as soon as we receive a cheque for US$ 29.99 plus shipping &handling costs, made in favour of

'the-south-asian.com'

and mailed to the following address

the-south-asian.com
1505 Prince Street, Suite 300
Alexandria, VA 22314
USA

For more information on the CD, visit www.film-india.com

Copyright © 2000 - 2001 [the-south-asian.com]. Intellectual Property. All rights reserved.