FAIR COMBAT
- Security for women by women
by
Nutan Sehgal


Women bodyguards with man-behind-the-idea Duggal [sitting]
They are India's very own Charlie's Angels who are doing what the police sometimes fails to do - make the big bad city safe for women. A Delhi-based security service is pioneering the concept of providing personalized security for women, by women. And they are no run-of-the-mill bodyguards. These Black Belters pack a tough punch when it comes to their job….
It is 9.30 p.m. and on a badly lit road in Delhi, the capital city of India, some streetlights are flickering in a valiant attempt to stay alive. Like any other day Manju George, a young executive of an MNC is driving home after a hard day's work. Suddenly two bikes appear and start driving alongside the car. This is not the first time Manju has been harassed. It has been going on for a few weeks. These goons identify women who drive home alone, pass lewd remarks and vanish.
This evening, instead of looking scared, Manju pulls up on the side. The eve-teasers too follow her. They are surprised to see another woman with her. The rude shock comes later when the lady jumps out of the car, kicks in the groins of one goon who falls in a heap and delivers a clean karate chop on the other's jaw knocking him out cold. Before they recover she has called the police and within minutes the two are arrested.
No, this isn't any Indianised version of Charlie's Angels. Archana is one of the few female security personnel whose services can be hired by harassed women like Manju. These women are lean, mean and pack a tough punch.
With the crime graph against women in India rising menacingly, the Delhi-based Vision Security Group is doing what the police has failed to do---make cities safe for women. In a pilot project, this security organization came up with the idea of providing personalized security for women by women.
Called Vision Gold the group has on its rolls 50 fearless women who are all black belt in different forms of martial arts. In addition they undergo intensive training in other forms of unarmed combat. Highlighting on the "unarmed" aspect, Sunil Duggal, the brain behind this unique service says," These young ladies are trained in the most advanced, effective and free techniques of combat."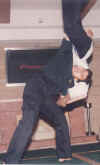 Gruelling military style schedules, hand to hand unarmed combat, weapon disarming, grappling, ground fighting, edged weapons training, police control techniques, pressure points and internal energy development are all a part of the training seminar. Apart from this an essential ingredient in the schooling of these specialists is to know how to avoid and defuse dangerous situations without having to resort to violence.
The muscular members of this one-of-a-kind group give the look of pub bouncers. Close cropped hair, a brusque, no nonsense air and a daunting body language coupled with a smart uniform complete their appearance.
Members of this group don't consider theirs an unusual career choice. Says 20-year-old Taruna Sharma, a black belt in judo "This gives me a platform to use my combat abilities to safeguard not just myself but also those women who are incapable of defending themselves. My work gives me a tremendous high."
Though the job gives her complete satisfaction, Taruna says people around her have not taken to her profession so enthusiastically. "You need the unending support of your parents when you take up a profession that goes against all the set norms of society. Luckily my parents backed me in this endeavour although many of my relatives were completely scandalized by what I wanted to do."
Concurring with her views, colleague Jyoti adds that will power is another key factor, "In addition to family support there needs to be a strong belief in oneself and confidence in your combat abilities. Mental strength is the solution."
These young women are looking forward to their role and are optimistic about the future in a career of which they are the trendsetters. " Someone just needs to take the first step. The rest will then simply follow," says Jyoti and adds " It is a good career for confident and assertive girls. Its just that our society isn't used to the fair sex doing such work and find it impossible to believe that they can actually defend other people."
According to Duggal these girls are in great demand not just by individual women seeking escorts but there are several enquiries from corporate houses as well. " Women feel safer with women bodyguards. The main reason for this is that women feel other women can understand and empathise with their circumstances better than men who might be insensitive to many situations."
The service, which costs Rs. 20,000 for an eight-hour shift for a period of 26 days, is attracting more and more women and Duggal is confident that once the idea catches on there will be a sharp drop in crime against women. That may take some time to materialize but a beginning has certainly been made.
*****