Dongria Kondh – a tribe's fight for survival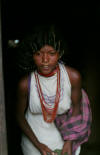 Text by Nalini Chibber
Photos Copyright Jason Taylor
Orissa , a coastal state of India, lying along the waters of the Bay of Bengal , is a region documented in ancient texts, inhabited by mild-mannered people, some belonging to tribes that have lived in its interior hills and dense forests for thousands of years. It is also a region rich in minerals - the reserves of which have suddenly brought one of India's most ancient , and also the poorest, tribes – the Dongria Kondh – in direct confrontation with one of world's largest mining companies – the UK FTSE 100 listed Vedanta Resources, owned by one of the richest men in the world – the billionaire Anil Agarwal. The eye of the storm is the Niyamgiri mountain, revered and held sacred by the Dongria Kondh, who have lived on its forested slopes in tiny settlements – forever. They hunt here, gather fruits, grow crops – and are at peace with their sustainable lifestyle. The mountain also has, within its folds, high quality and rich reserves of bauxite (the basic ore for the manufacture of aluminium), which Vedanta wants to mine. The Supreme Court of India has recently given the mining giant a green signal and a nod to go ahead. The Dongria Kondh, who number just about 8000 and for whom the mountain, together with its fauna, flora, and streams, is their life, do not want this to come about. They fear this one step, apart from causing immense environmental damage, will also destroy them and their way of life – their culture – for they have never lived elsewhere – this is their land and their home.
Read the entire article in the print issue of SALT
subscribe@the-south-asian.com
Jason Taylor has been working as an activist photographer and has spent the last three years travelling back and forth to Orissa to study and document the Dongria Kondh.
Over the past five years, he has worked on a variety of projects with large organisations including UNICEF, UNAIDS, UNDP, SCF, Action Aid, Survival International, Concern, and IDRC Canada. His work has been printed in publications such as The Observer, The Guardian, Time Asia, and Time Magazine.
Our gratitude and thanks to Jason Taylor for providing the images for this photo essay.