Page 2 of 2

Nandalal Bose - a leading citizen of folk aristocracy


(cntd)

By

Dinkar Kowshik

Thus we see Nandalal, a leading citizen of folk aristocracy. Khadi to him was not a mere coarse cloth made out of hand-spun yarn. To him it had infinite variations of textures born of human sensibility. Khadi was an aesthetic equivalent of our will to work and our homage to the hands. The very feel of moderately twisted yarn, woven on a simple loom, had a tactile quality. The weight, feel, colour and texture of Khadi attained infinite gradations and

richness. All these qualities belonged to the parlance of art criticism. He therefore accepted Khadi on aesthetic premises. Similarly he was extremely keen in his perception of handmade utensils, handmade toys and other household objects. He always paid tribute to the village potter and village artisan who fashioned his wares with simple tools. His respect for the noble dignity of handmade work has a spiritual significance. Simple shapes arrived at intuitively by the master-craftsmen attracted his unerring eye. A metal-ware, a toy, or a potter's bowl made him pause admiringly. Again, his absorbing interest in the folk arts of India was not just a matter of urban fashion with him. His folk aristocracy made him conscious of this rich treasure of the soil. He recognised that in such folk art pieces, daring calligraphy was matched by a joyous abandon to colour. Time and again he would refer to the urban greys and the fear of variegation in city life. He had observed that rural areas of India were adventurous in the use of colour on person, in textiles, in toys and in paintings. He knew that colour was an expression of our deepest springs of the unconscious. Colour was like music, born of the inmost promptings of the élan. He had noticed the jarring notes of discord imported in our cities due to a confused state of industrial revolution. Tin cans, bill boards, film posters, neon signs and the badly designed glare of advertisements had invaded the visual sanitation of our civilised life. He clearly saw that only serious art, which harnessed the vitality of folk art and rural simplicity, could stand against the general rot.
His catholicity in art permitted him to see aesthetic excellence in the Far Eastern as well as in the art of the Middle East. He was able to enjoy the subtlety of design and vitality of form in the primitive art forms of Black African and Polynesian art. He could also recognise the awesome strength of Aztec and Peruvian art. He however eschewed the optical illusionism of academic European art. On account of his initial reluctance, he kept away from European contemporary movements. He was sensitive to the strength of Matisse's colour or Picasso's formal distortions. His natural reflex was to recoil from their violence and lack of spiritual detachment. His refined eastern taste kept aloof from the flesh as depicted in Western art. This intrusion of matter in the realms of art was too jarring for his palette. Nandalal had his reservations about an art which was launched on its career as an imitation of visual reality. He firmly denied this. To him art was an essence, a distillation of reality. Reality as seen by the artist's eye had to pass the fiery gates of imaginative vision. Flesh had to lose its sordid grossness and attain a state of plastic energy. He compared Rubens and Konarak to illustrate his stand. The mighty voluptuous nudes of Rubens bring to us a dynamic reality of the flesh. Young, heavy-bosomed women caught in the web of normal human passions are painted to vivify the artist's vision. The effort is a make-believe. The perspective, light and shade, anatomy and psychology are thrown in the battle to establish suzerainty of the visual, palpable world. The Konarak erotic group stands at the other end of the pole. Here there is no make-believe. The figures locked in love-play appear as centres of energy. Limbs in their rounded affluence do not remind one of particular individual lovers. They are distillations of our total experience of union. The erotic display stands before our eyes as an empathetic transformation. Nandalal ignored the later developments of European art. The towering achievements of Matisse, Picasso, Braque, Klee, Miro, Mondrian, Brancusi and others did not find favour with him. He did not make any serious effort to change his orientation. He remained stubbornly faithful to his original classical aesthetic verities of Satyam Shivam Sundaram. His Satyam was conditioned by his faith in rural culture. He therefore retreated into his shell and disowned anything that originated in the changing milieu of an industrial machine age.
Aesthetic Nandalal stands as a counterpart of Political Gandhi. He delivered us from slavery in art expression. It is indeed an irony of fate that we are at present under the tutelage of Europe and America, because of our indiscriminate squandering of debts.
Master-mashai, now remains with us as a legend. Those who were privileged to be his students, recall his personality with affection and respect bordering on hero-worship. He was undoubtedly the gentle hero of the aesthetic land. He was a man of few words, but those few words were mined out of the rich quarries of his deeply sensitive mind. His respect for nature was as profound as his reverence for the classics. Today he comes back to us as a living presence through his great achievement in art.
Kala Bhavan has a rare collection of original sketches drawn by Nandalal Bose during his active life as an artist. Most of these were sent to his Master – Abanindranath Tagore. They are therefore doubly significant. As was his habit, Nandalal preferred to speak with forms. He wrote letters in sketches, he greeted with pictures, he blessed with drawings. Visual form was his life-breath – his innermost sensibilities quickened with any visual presence. He is most daring, original, experimental, dramatic, humorous and incisive in his sketches. Here we find his alert searching eye, capturing moving spectacle of living form. A growing tree, moving figures, frisking animals, birds on wings, rustling grass, sailing boats are firmly netted in a visual parallel. Until his death, he kept his moving hand on a constant trail of form. He sketched with a master's hand and with a student's eye. His mind bears witness to both – hand and eye – as the watchful Vedic bird.
About the author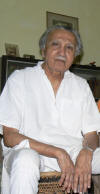 Dinkar Kowshik
Born 1918, Dharwar, India
Education
University of Bombay, 1938,
Fine Arts, Santiniketan, 1941-46
Belle Arts Roma, 1955-56
Career
Faculty Delhi Polytechnic & then College of Arts Delhi, 1949-64
Professor & Principal, College of Arts, Lucknow, 1964-67
Professor & Principal, Kala Bhavan, Santiniketan, 1967-78
Publications with translations in various languages:
Age and Image - 1960
Nandalal Bose - 1985
Blossoms of Light - 1986
Akura Kakuzo – 1988
Okakura
Many other articles and booklets on Rabindranath Tagore and others.
Was instrumental in the formation of the following institutions:
Delhi Shilpi Chakra, Delhi

Triveni Kala Sangam, Delhi

Arts-Glacerhi, Delhi

The metamorphosis of Delhi Polytechnic into College of Arts.
Present Address: Pearson Pally, Santiniketan, West Bengal -731235. India.