100 new frog species leap into the Sri Lankan rainforest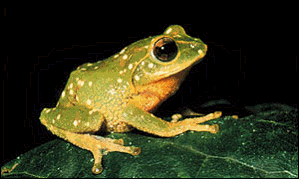 More than 100 new frog species, including species of treefrog, have been discovered in the Sri Lankan rainforest. Researchers say the discovery makes the island, which covers more than 65,000 square kilometres, an amphibian hotspot of global significance. Most of the newfound frogs are "direct developers", which hatch as tiny adults, missing out the tadpole phase.
Source: BBC NEWS Friday, 11 October, 2002
Golf: Vijay Singh Wins Tour Championship
Monday, November 4, 2002
Vijay Singh won the Tour Championship after two previous unsuccessful attempts at East Lake in Atlanta, USA. "I've finally done it, and it's really something I'm going to cherish." With this victory, Singh finishes third on the golf seasonís money list. He also won the $500,000 (£320,000) bonus for finishing top of the standings in the PGA Tour's Fall Finish.
Deference and pride in civilisational past
"Every Indian in the metropolitan centres knows that Agatha Christieís ĎMouse Trapí has played on Londonís West End for three decades. But does any Indian know that the Ramayana ballet has been performed in Yoga Jakarta (Indonesia) every day, without a break, for the past 24 years in the shadow of the Prambanan temple by a troupe of over 100 artistes, all devout Muslims but unabashedly deferential to their civilisational past."
Saeed Naqvi, Columnist Indian Express
August 25, 2000
AR Rahman - the first south Asian among the top 500 Earners
in Sunday Times Pay List 2002
Music director and composer AR Rahman is among the top 10 South Asians earners in the Sunday Timesí Pay List 2002. His earnings of $3 million (£2 million) last year, place him at 377 among the 500. The nine south Asians who earned bigger cheques are:
brothers Gurchait and Gurnaik Chima, in fashion industry. With £9.5 million earnings last year, they are placed at 68th position

entrepreneur Manish Chande with £4.118 million earnings is at 179

businessman Raj Kumar is at 183 with £4 million. He is the Managing Director of a London travel company.

Rana Talwar a former banker, at position 232 (Earnings £3.2 million)

Tom Singh, in clothing industry, at position 253 , earned £2.87 million last year.

Ranjit Boparan (Director, Boparan Holdings) at position 269 with annual earnings of £2.76 million

Baljinder Boparan (co-owner of Boparan Holdings) at position 303 with an income of £2.5 million.
American cable channel plans show with actual Everest climb
An American cable channel is looking for contestants prepared to climb
Mount Everest to compete for a cash prize in a new reality television
show.
The assault on the world's tallest mountain will be the culmination of the
new series on the Outdoor Life Network.
But competitors will first have to take part in a series of challenges in
difficult terrain as diverse as Africa's Kalahari Desert, in the
wilderness in Borneo and in the mountains of Iceland before heading for
the Himalayas.
A group of the 50 fittest men and women aged 21 and above will initially
be chosen, with 12 finalists vying for the $250,000 (£161,788) prize
money.

The contestants have to be fit and aged 21 or over

The network unveiled plans for the programme to be called Global Extremes:
Mt. Everest - 4Runners of Adventure on Thursday.
More than 1,000 people have reached Everest's summit since it was
conquered 50 years ago.
But many climbers have died on the slopes before reaching the summit,
which is nearly 9,000 metres high.
Space trip prize
This is the latest in a long line of reality television shows where
contestants seem prepared to go to extremes to win prizes.
Worldwide hit Survivor - shown in the UK on ITV1 - has seen contestants
Source: BBC News Friday, 18 October, 2002