Erina Tamrakar – Born 1970
Erina's portrayal of women brings to life the simplicity of women in villages of Nepal, and more recently the bond between a mother and her child. Collection - 'Reflection & Reality'. (Oil on canvas).
Pradip Bajracharya – Born 1971
Pradip derives his inspiration from traditional sources. His affinity to festivals comes alive in his paintings, which are almost a photographic blend of song and dance.
Collection - 'Festive Images'. (Acrylic on canvas).




paintings by Pradip Bajracharya
Pramila Bajracharya – Born 1972
Pramila's work is evocative of the beauty in nature – the interplay of colour and light in varied landscapes. Her colours are bold and striking.Collection 'Landscape Expression'. (Oil on canvas).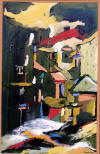 Paintings by Pramila Bajracharya

Sunila Bajracharya – Born 1973
Female form plays an important thematic role in Sunila's works. The forms are stylised with the use of bold strokes and strong lines. Collection - 'Perception of Time'. (Oil on canvas).