Page 1 of 2
3 Book Reviews from Pakistan
by
Razia Sultan
Our reviewer would have us first read the following words spoken by William Faulkner. In his lifetime William Faulkner remained a modest writer with an aversion to making formal speeches and said . 'I'm just a farmer who likes to tell stories………...' and stated in his Nobel Prize speech the following:
Our tragedy today is a general and universal physical fear so long sustained by now that we can even bear it. There are no longer problems of the spirit. There is only one question: When will I be blown up? Because of this, the young man or woman writing today has forgotten the problems of the human heart in conflict with itself which alone can make good writing because only that is worth writing about, worth the agony and the sweat. He must learn them again. … He writes not of love but of lust, of defeats in which nobody loses anything of value, and victories without hope and worst of all, without pity or compassion. His griefs grieve on no universal bones, leaving no scars. He writes not of the heart but of the glands."
"I decline to accept the end of man." - William Faulkner

" Where They Dream in Blue"
by Bina Shah
Alhamra, Pakistan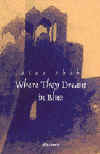 The opening chapter sets the stage for the rest of the book; the time is 1990s to present, the class is upper middle class kids and parents, location is Boston, Massachusetts area in USA and Karachi city in Pakistan. The protagonists are Akbar a rich kid sent from Karachi to study in Boston University [ the university most rich kids from Pakistan go to ] and Karim, who is basically a first generation American born of Pakistani parents who are professionals and has been raised in some suburb of Washington DC.
The opening story lines are : Karim is to go to Pakistan for his first ever homecoming and Akbar is going to be his host. The second chapter is given to the usual information regarding what is known as culture shock for a person such as Karim. Karim manages to get a job working with an NGO called " Samandar" working on projects to do with marine ecology. Chapters 3 is about a lunch in a Chinese restaurant and a Camel ride on the beach. Chapter 4 is about the Karachi upper middle–class and their vanity fair parties. Chapter 5 and 6 are about Karim's work on protecting the Karachi beaches and sand from the construction mafia, Sufism as understood by the rich kids and professional beggars on the Karachi beaches. Chapter 7 is about a Junoon party and the usual macho fight between Pakistani males. One worthy quote is about the holy prophet Mohammad being quoted as saying :
"……… the ink of the scholar is more valuable than the blood of the martyr. ….."
In chapter 8 , Karim visits "As- Salam" an orphanage in Karachi run by a lady, where he discovers that orphans can be happy , and sing Junoon songs . This is followed by a description of a typical arranged engagement party . We also learn that Akbar has started to pray.
Chapter 9 sees Abdullah, the beach beggar boy enter the orphanage . Abduallah's boss , Farooq is not happy. In Chapter 10, we get a confrontation of Nazli, and Karim over the arranged marriage of Nazli to a Pakistani origin Canadian computer scientist. The reader is also presented with a crab fishing and coke picnic on a boat in the Karachi harbour. Chapter 11 [ npo bankruptcy here ] treats the reader to the story of Abdullah and also Nazli's arranged marriage as "cultural pressure". In Chapter 12 Karim wins the South Asian award for his paper " Everyday Saints- An Orphan finds a home." His family and friends are very happy.. More drama as Abdullah runs away from the orphanage prompted by pressure from his mafia don Farooq. Karim finds and buys Abdullah 3 pairs of shoes at a shoe store exposing the rich–anti poor bias of Pakistani society.
Chapter 14 takes us to Nazli's engagement and the disturbing gorging eating styles of Pakistanis at weddings. Drunk confession of Karim's love of Nazli follows. Chapter 15 introduces us to a Karachi Armed robbery by Farooq. Abdullah gets hurt in this incident. The reader is presented with the usual horror story of Pakistan hospitals. Karim & Akbar pray for Abdullah the orphan boy whose life is in danger in the hospital. Both Karim and Akbar take off for a shrine . There, an old man is found who had once told Karim to " Dream in Blue …" The meaning of this is that blue being the color of sadness is also a spiritual color and the color of belonging . They all pray " Mannat" at the shrine. Lo and behold Abdullah gets to survive.
The last Chapters 18, 19 takes Nazli back to Karim to say that she does not want to get married. IN the end Nazli and Karim visit the graveyard where Karim's grandparents are buried and Abdullah gets to be raised as a part of the family.
The final evaluation of this book is left with the reader. Perhaps this book should be given merit for the thoughts of the world that it covers - the boring and flat lives of the upper middle–classes in Karachi, Pakistan.