Page 2 of 2
3 Book Reviews from Pakistan
(cntd.)
by
Razia Sultan
"Kartography"
by Kamila Shamsie,
Oxford Pakistan Paperbacks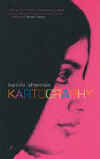 Kartography, a novel by Kamila Shamsie, describes the observations of a Karachi Grammar school [upper middle class] groupie growing up in a 1980s violence ridden Karachi. It's domain is the rich suburbs of Karachi – Defense, Clifton, etc. The protagonists Raheen [ Ra] and Karim follow their lives by showing off their novelty of the English language and indulging in English word gymnastics such as anagrams, and other verbal puns.
Song titles such as " you 'll find us by the Indus, Paki up your troubles, By gum, Begum, Saatchi & Saatchi in Karachi, Don't make whoopee, save your rupee ………".are part of the fabric of this story .
The novel does not explain the fact that parents apparently swapped each other's spouses. The novel follows the usual Anglicization of names. "Rukhsana" becomes "Runty". If getting to know the upper-middle class is what this novel is, then it is also not the best one to read.
" Zia sipped his Black Label and nodded." Two paragraphs later the reader runs into the Black Label name again. " I looked up at Zia, who was unscrewing the top of a bottle of Black Label. He poured a generous amount into a glass and topped it with ice and Coke."
Oh yes, the character Zia also listens to Billie Holiday.
"Zia crunched a piece of ice between his teeth and pressed PLAY on his CD remote control. Billie Holiday's voice filled the room. I laughed. He could have such incongruous tastes."
In the middle of the novel, the height of the violence in Karachi is described by the sub-story of the two main characters who take their parent's red Mercedes and are struck by some firing.
More name dropping of the poet Faiz Ahmed Faiz and then John Donne, A little bit of the Pakistani politics –going north and south at the same time.
Welcome to a one-dimensional plastic view of Karachi in the 1970's to the 1990's through the eyes of rich kids!
Émigré Journeys
by Abdullah Hussein
published by Serpents Tail.

Coming in the wake of Ayub Din Khan's play " East is East " which ran in London in 1998 and Hanif Kuershi's film " My son the Fanatic ", Abdullah Hussain's Émigré Journeys seems superfluous. It is a case of "seen that, been there , done that ….."
A tale of immigrant Pakistani labourer entering the UK illegally, hiding and living twenty to a room, sleeping in shifts, while working overtime. One of them marries a white girl, has a family and the story later expands into the growing up troubles of second generation Asian kids in a class ridden Britain.
One expected Abdullah Hussein to write with more depth especially after his previous novels " Udaas Naslain " a story of post partition Pakistan.
P.S. The quote of William Faulkner is even more relevant today in a world where South Asian writers appear with increasing regularity to burst upon the literary scene . As Khushwant Singh said when asked how he started writing , "Ais taranh tey asi vee likh sakh dain aan." Thus was launched the middle- weight writing career of Khushwant Singh.
*****