Tech Toys for 2003
Fossil's Wrist PDA - Wear it like a watch!

Watchmaker Fossil will soon launch, in 2003, a Palm OS-based PDA for the wrist.
The stylus hidden in the watchband, can be used for entering text.
It will have a cradle for recharging and synchronizing.
2 megabytes memory will allow the user to keep track of daily schedule and a sizable address book, among other things.
Handspring Treo 270 Communicator

The Treo communicator is one of the smallest Palm OS handhelds available. Its features include:
full color screen ,a convenient backlit keyboard for nighttime use.

a dual-band GSM world phone, that has speed dial, three way calling ,call history, built-in PhoneBook, a personal speakerphone and headset for hands-free operations, a backlit keyboard for evening calling - and more importantly - call anywhere in the world - from anywhere in the world

Treo Mail™ service (sold separately), which integrates personal or corporate email account enabling the user to:
- read, write and send email from virtually anywhere.
- send an SMS (short messaging service) text message to other mobile phone users around the world or even to an email address.

Mobile web access enables the user to access the web from just about everywhere—in color. Every Treo 270 communicator comes with Blazer™—an award-winning wireless web browser—so you can surf virtually any web site, not just those sites optimized for mobile access.

To Do List, Memo Pad

ease of installing other color-enabled Palm OS applications, including games, photo viewers, document editors and much more.

16 MB memory

Get directions

confirm reservations


check the weather

$499 (w/ service activation)
$449 after T-Mobile rebate
Play better golf with - StarCaddy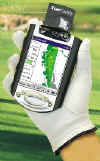 StarCaddy is a GPS-enabled software that can run on a PDA (the compatible models are listed below). It comes with an extensive database of golf course maps, which are available online. It can do all the amazing things stated below:
Show you your position on any green, fairway, or the entire course

calculate the distance from where you are to all the fairway features – including exact distance to the green, doglegs, sand traps, and water hazards

gives a close-up view of the green as you approach it

gives straight-line yardage to the green.

keeps score
StarCaddy is compatible with Pocket PC or Windows CE 2.11 (and higher) and Palm OS 3.5 (and higher) devices, including:
Casio Cassiopeia E-125, E-200, EM-500

Compaq iPaq 36xx, 37xx, 38xx and 39xx series

Hewlett Packard Jornada 548, 525, 565

NEC MobilePro P300

Toshiba E570

URThere @migo 600C

Palm m-Series

Palm VIIx

Palm Vx

Palm IIIx

Palm i705

Sony CLIE S320/S360

Sony CLIE T415, T615C, N610C, N760C, NR70/NR70V

Handspring Visor Edge, Neo, Platinum, Prism, Pro
StarCaddy can also be purchased as a complete package with HP/Compaq iPaq and GPS Receiver.
The price for just the software is $ 49.95