Page 2 of 4

JARAWA of ANDAMAN ISLANDS
(cntd.)
Information on the following pages was provided by Survival - a London based organisation supporting tribal people worldwide. Survival's contact details appear at the end of the article.
Survival
Survival is a worldwide organisation supporting tribal peoples. It stands for their right to decide their own future and helps them protect their lives, lands and human rights. Survival works with peoples across five continents, campaigning for their rights and offering to help them in their struggle to survive.
Jarawa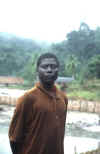 Photo courtesy Survival
In India, a road cut through the land of the isolated Jarawa, brought settlers and disease. Government planned to settle the Jarawa causing more deaths. But after a campaign by Survival and local organisations, courts ordered that the plans be abandoned, the road closed, and the settlers removed.
What is Survival's campaign?
Survival has been campaigning for some years to have the Jarawa's rights to their land and to self-determination respected, and against the particular threats to them. The first success for the campaign was that by 2001, the Indian government had clearly abandoned its plans to resettle the Jarawa, and was claiming that it never intended to do so. Survival wanted the court hearing a case on the issue to make this official, and gathered expert testimonies on the dangers of forced settlement. The court's interim judgement incorporated many of our recommendations; we are working to have this made permanent.
After the authorities' change of position on settlement, Survival focused on trying to get the road through Jarawa land closed and the settlers removed. In May 2002, the Indian Supreme Court ordered the closure of the road, the removal of settlers, and a ban on all logging. Survival is now trying to make sure that the court's order is implemented properly. We are continuing to lobby for recognition of the Jarawa's right to own their land and to make their own choices about how they live.
After the government of India conceded that it no longer planned to impose settlement on the Jarawa, Survival focused its campaign on the closing of the road. Now the Supreme Court, accepting the recommendations of commissioner Shekhar Singh, has met three of Survival's remaining key demands:
the withdrawal of encroachers from the tribes' land,

an end to logging of their forests and

the closure of the Andaman Trunk Road.
The order was issued in a petition about logging on tribal lands filed by the Society for Andaman and Nicobar Ecology (SANE), Bombay Natural History Society (BNHS) and Kalpavriksh. It has not yet been implemented, but the situation looks extremely positive for the islands' tribes.
Survival Director Stephen Corry said, 'This is excellent news for the Jarawa and the other tribes of the Andaman Islands. The road, loggers and encroachers on their territories brought them death and disease for 30 years. Now, thanks to the Supreme Court, these threats are to be withdrawn. We must now see that the order is implemented properly.'