Indian Wines – India's Big 3
- Chateau Indage, Grover Vineyards, Sula Vineyards

Sula Vineyards

Location – Nashik (180 kms NE of Mumbai), Maharashtra, India
First wine launched in: 2000
Flagship wine: Sauvignon Blanc
At Sula Vineyards, they try not to compromise with quality. The corks come from Portugal, clear-glass bottles from France, wire holders from Spain and gold foils from Luxembourg – and wine from their Nashik and Dindori estates. And – they have what might be India's first Tasting Room.
Rajeev Samant, a 40-year-old Stanford University engineering graduate, gave up a high-profile job in San Francisco at the Oracle Corporation, to return home to India and make some wine. "My father is a first-generation entrepreneur, and I too felt the need to start something of my own. There is a special, incomparable pride one takes in a self-started venture, a feeling of ownership that drives you to make it a success. I could have chosen a secure, cut-and-dry job where I knew what the next day would hold, but I was much more drawn to the road less travelled. Most of my friends were bankers, consultants or media people, and many thought I was crazy to be growing grapes and making wine. Still, I believed in what I was trying to do and didn't let traditional expectations scare me off." That was 1993.
With the help of Terry Damskey, a California winemaker, he set up Sula winery on the 30 acre family estate in Nashik. In 1997, they planted French Sauvignon Blanc and Californian Chenin Blanc, varieties that had never before been planted in India. The first batch of wine cases rolled out in 2000 and the output has doubled each year. He still cannot keep up with the demand. The reason is simple. Their white wine, Sula Sauvignon Blanc, is acclaimed as India's best white.
The three wineries that Sula owns today have a combined capacity of 2.4 million litres. Sula has expanded from the original 30 acre family estate to having about 1200 acres under plantation, both in Nashik as well as in nearby Dindori, India's upcoming wine region. Varietals planted include Cabernet Sauvignon, Shiraz, Zinfandel and Merlot along with the original Chenin Blanc and Sauvignon Blanc.
Sula sells throughout India and also exports its wines to France, Italy, US, UK, Canada, and Ireland. In France, Sula is available at the premier wine stores. Their most popular wines are the Sauvignon Blanc among the whites and the Dindori Reserve Shiraz (Rs 650/bottle) among the reds.
The 2007 World Economic Forum in Davos featured a unique tasting of the top wines of China and India for the first time. The tasting was led by one of the world's foremost wine experts Ms. Jancis Robinson, wine columnist for Financial Times.
The white wine chosen to represent the world's newest and upcoming power centres (and wine regions!) was India's Sula Sauvignon Blanc 2006.
Two of Sula's reds, Cabernet Shiraz and Dindori Reserve Shiraz, are second and fifth respectively on the list of the greatest-quality wines in the Wine Asia report 2007. They have also pioneered Red Zinfandel in India.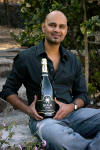 Rajeev Samant
Founder & CEO Sula Vineyards
Age – 40
Education – Industrial Engineering graduate, Stanford University, USA
1st job – Oracle, San Francisco, USA
Other interests - Adventure sports, fitness and chilling out in Goa.
Favourite Sula wine – Dindori Reserve Shiraz
"The journey has been challenging as well as incredibly rewarding. Ultimately, for a winemaker, psychic rewards are very important. It is not all financial.''