Dr. Peter McLaughlin,
Headmaster of The Doon School
– in conversation with Roopa Bakshi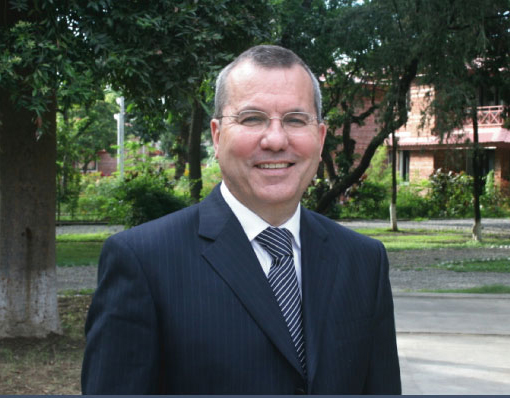 I met Dr. McLaughlin in early-June 2010. The school had just closed for the summer break, and the campus was quiet but for the almost incessant chirping of birds sitting atop trees older than the school. Dr Peter McLaughlin became the Headmaster of The Doon School in mid-July 2009, bringing with him a vast and a rich experience as a teacher, housemaster and headmaster in a number of British public and international schools. Most recently he was the Headmaster of the 180-year old Casterton School in England. He is a published author (military history), a painter, a horse rider, and more. He moved to Dehradun last year with his wife Elizabeth; his two sons, now in their 30s, live in Cape Town.
We had the following conversation in the Headmaster's Study – an imposing room on the first floor of the ivy-covered Main Block. He sat behind the vast expanse of a hardwood desk, which once belonged to the Founder, Mr. Das.
How has the first year been for you?
I have been here ten months – still going through my first cycle. It is always odd for a Headmaster to be starting half way through the academic year – because the end of the first year is not the end of the fist academic year so I shall always be out of sync with the school here. It has been a wonderful year – it has gone by so quickly – I feel I have been here 10 minutes!! 10 years!! - but not 10 months. It is the sort of school that gets under your skin very, very, quickly. The time has gone by so quickly; I feel I have just arrived.
ead the entire article in the print edition of The South Asian Life & Times
subscribe@the-south-asian.com