THE LAST QUEEN OF JAIPUR
By
Dharmendar Kanwar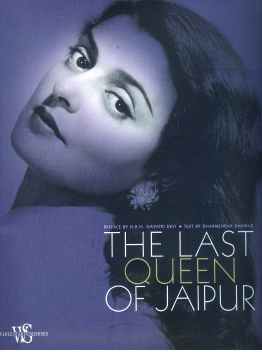 It will be a year in July this year since Rajmata Gayatri Devi of Jaipur passed on – but her spirit is alive and will always remain so. Dharmendar Kanwar's recent book on the Rajmata - 'The Last Queen of Jaipur' published by White Star – is her magnum opus and labour of love. Richly illustrated, the 290-page book has hundreds of photographs spanning nine decades of history. Dharmendar Kanwar shares, with SALT, her memories of the Rajmata.
When I began working on the The Last Queen of Jaipur, I had no idea that it would end up as my final tribute to the legendary Rajmata Gayatri Devi of Jaipur.
The project started with great keenness though there was just a little bit of concern as to how we could make it different from the other two books – her autobiography titled A Princess Remembers and the biography that I'd done a few years ago - Enduring Grace. But after the initial apprehension we didn't let it bother us too much and spent many happy hours going through the photo albums and letters and re-visiting the different periods in her life.
Read the entire article in the print edition of The South Asian Life & Times
subscribe@the-south-asian.com