THE ART OF ART RESTORATION
by
I.D. Mendis


Manikandhan restoring a work of art….Precision work.

Art conservation is a new age profession with most modern art galleries across the world employing restorers. In India there are just a handful of people who are specialists in this field.
As one steps into the drawing room of Ramdev Singh, erstwhile Maharaja of the princely state of Nawalgarh in Himachal Pradesh, one is struck by the splendid painting mounted on an imposing wall. Is it a Raja Ravi Verma? Yes, he confirms, "My great grandfather bought it from the painter himself in 1885."
Ramdev Singh is proud of being the owner of this exquisite canvas by one of India's greatest artists. "It had been hanging in our traditional home till 1965 and then we moved it to our Delhi house. But over the years the paint had become flaky and some moisture made the canvas wavy in parts."
A worried Singh approached a professional restorer to assess the damage. Though it was considerable, the work was not beyond restoration. Doubtful of the outcome, but keen to try the option nevertheless, Singh agreed to spend a king's ransom to bring the painting back to its original glory.
"A damaged painting is like a body without its soul. The soul of a painting, unlike that of human beings, is not immortal. As the painting decays, it starts losing its content and value. Maintenance is vital for any good work of art," says restorer M.N.Manikandhan who has specialised in stain glass conservation from U.K. and is the art conservator at the Indian National Trust for Art and Cultural Heritage (INTACH).
Art conservation is a new-age profession with most modern art galleries across the world employing restorers. In India Manikandhan is among the handful of people who are specialists in this filed. Most restorers are accomplished artists who opt for this expertise as the field is virgin and they find more satisfaction in preserving works of great masters than creating art," as he puts it.
Sometimes specialists like Manikandhan are asked to restore works of art that have been almost destroyed and are virtually unrecognisable. "It is a very painstaking process, but also very satisfying," he says.
Moisture, abrasions and flaking can lead to decay in poorly preserved paintings. With age, a canvas can also become brittle or develop cracks and become yellow. Such uncared for paintings start appearing dull and dark. Thus, say experts, it is absolutely important to preserve valuable works of art.
Specialised Field
Restoration is one of the most specialised fields in art. A restorer is an accomplished artist who has the expertise of putting life back in a painting. One of the best institutes in the country that specialises in this delicate work is INTACH.
As collectors are realising the value of these objects de art, INTACH is beginning to find itself responding more and more to their call for restoration of old oils, moving beyond their better known area of work related to conservation of old monuments and the rich cultural heritage.
The institution is rebuilding works of art not just on canvases but, glass, wood, thanka, walls, and miniatures. Their most prestigious assignment was the restoration of paintings on the walls, wooden doors, panels and beams of the world famous Leong San Tong Khoo Kongsi temple in Penang, Malaysia.
" Oil paintings suffer mainly on account of loss of paint, brittleness of the canvas, yellowing, flaking, cracking, fungus, faulty storage and moisture," says Nilabh Sinha, another well known restorer.
"Fungus is the most common destroyer of paintings. Walls are generally infested with fungus that infests the painting when it is hanging on a wall," says Sinha, a graduate from the Delhi College of Art and with a Masters in Art Conservation from the National Museum Institute, Delhi.
Interestingly most works of art that are in urgent need of restoration belong to erstwhile maharajas, princes and industrialist institutions. INTACH's current assignments include restoration of the portrait of an Oriya prince, Deen Bhandu Mahender Bahadur which was damaged because it was stored in a shed. Also being restored are the portrait of the Maharani of Kapurthala; the Festival of Holi owned by the Doon School in Dehradun and Lord Jesus preaching at Galilee belonging to Jamnagar's former royal family.
INTACH has seven centres - Delhi, Lucknow, Bangalore, Bhubhaneshwar, Rampur, Jodhpur and Thrissur - where restoration work is being undertaken. "Leading art galleries just restore the work they own whereas INTACH does restoration work on a mega scale because of our presence all over India," says Sinha.
Important Restorations
Some of INTACH's most important recent restorations include Raja Ravi Verma's Portrait of A Maharaja and Veena Player both of which were discoloured and showed extensive flaking; Amrita Shergil's Fruit Vendors and Dressing the Bride also badly discoloured with the latter showing small shrinkage cracks due to use of 'wet in wet' painting technique.
"It took us a long time but ultimately the work was done to our satisfaction," says Sinha whose team has taken up restoration work ranging from a one cm. by one cm. miniature ivory painting to an 18 feet by 12 feet painting of Jesus Preaching at Gallilee.
The steps involved in the restoration include photographing the painting from various angles, cleaning by mechanical means with solvents like turpentine and ethyl alcohol, analysis of the type of treatment required to restore the damaged parts, examination by infra-red light to locate underlying layers of paint and filling in areas where paint has chipped off.
"Restoration is a very tedious and laborious process. It takes days to completely study the nature of damage work. Only then is the restorer in a position to brief the owner on the nature and duration of the treatment." Says Sinha
Adds Manikandhan, "Depending on the damage, it can take one month to over a year. Similarly the cost of the restoration can vary from as low as Rs 500 to as high as Rs. 1 lakh."
With interest in art growing exponentially, the restorers will be in demand more than before. "It is areas like these which are going to throw up opportunities for youngsters in the near future."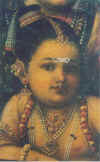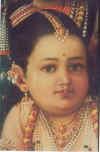 Pre and post restoration of a work of art
Simple rules to preserve works of art
Hang the painting at a little distance from the wall.
If you need to store a painting put it in a place that is clean and without dust and moisture.
Do not attempt to fold a painting while transporting it.
While packing a painting keep it flat in a crate that has a thermocol support.
Don't ever leave a painting in sunlight. It will get bleached and discoloured.
Mount painting in a glass frame for longevity.
Never try and re-touch a damaged painting. Take it to a restorer.
Do not clean painting with wet cloth or duster.

From time to time clean the wall covered by the painting.

Keep a check for fungus.
*****