RUPA BAJWA'S
'THE SARI SHOP'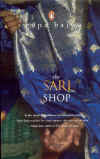 by
Sanjay Austa
Rupa Bajwa's debut book The Sari Shop (Penguin) was longlisted for the Orange Prize for Fiction 2004, an award that was eventually won by Andrea Levy for Small Island. The book has won the 27-year-old Amritsar girl flattering reviews the world over with reviewers calling her India's new literary find.

Ever since she put pen to paper nothing else has mattered to Rupa Bajwa - not the various jobs she juggled over the years, not marriage that her folks thought was the most important thing for her. It was just writing. And, as she says, "I had to write just to exist." For this 27-year-old Amritsar-based author time away from writing is time wasted.And it was a brave choice indeed, because despite the occasional news of an Indian getting a fat royalty cheque and big publicity, only a handful of writers can afford to live by their muse alone. For the majority, writing can barely pay for basic amenities.
But Rupa Bajwa has been a lucky author. Her debut book The Sari Shop (Penguin) was longlisted for the Orange Prize for Fiction 2004. The book has won her favourable reviews the world over and she has been hailed as India's latest literary find.
However the journey to establish herself was a bumpy one for this young writer. From rented rooms in various cities she visited `in search of peace to write' and hired computers on which she punched her story, Rupa Bajwa did have her moments of frustration and despair. Now riding on the wave of success of The Sari Shop, she has embarked on a full time career in writing. She is a prolific and a disciplined writer and is already on her second novel which she says would see the light of day soon.
Bajwa says she drags herself to her writing desk everyday no matter how hard it is. "I have a fairly regular schedule and write daily though sometimes creativity doesn't flow and it can get very frustrating. Everything is blank - mind, paper, computer screen. But one has to keep at it. Because there are times when I write intensely and non-stop for ten to twelve hours a day," she says.
Essence of Amritsar
The Sari Shop is not autobiographical as most first books tend to be. However it does capture the essence of Amritsar with all its gossip, its alleys, its busy bazaars, its dhabas (eateries), mannerisms and its petty rivalries among the rich and bored women. "Bits of yourself always creep in, sometimes without you being aware of it," she says.
The book is about the underprivileged class but Bajwa has broken away from the usual practice of Indian writers who tend to focus on their sorry circumstances, their financial problems and their oppression by the rich. She has instead made her story revolve around the anxieties of Ramchand, a lowly shop assistant at Sevak Sari House in Amritsar.
Ramchand was not born poor. His parents are killed in an accident and he is brought up by his uncle. As soon as he is old enough to fend for himself his uncle finds him a job as a shop assistant where he is condemned to a life of ennui and drudgery and far from the education he craves so much.
But all this changes suddenly when he is dispatched to the rich, English-speaking Kapoor household to deliver saris and fabrics for the daughter's trousseau. Seeing them converse in English, Ramchand's passion gets re-kindled and he buys himself a second-hand grammar book, an Oxford Dictionary, a fresh pair of socks and a bar of Lifebuoy soap. These four things, he is convinced, will give him the kind of life he has wanted since childhood.
The plot for the book was developed from Bajwa's short story she wrote a few years ago. "The idea and the character stayed with me and I kept working on the story to make it a longer narrative," she says.
The Orange Prize selects fictional work of women writers across the world. "I wouldn't want to make any sweeping generalizations here. Of course your gender affects your perspective and your experience to a certain extent, but beyond that, when it comes to the nitty-gritty of writing, I think all writers - men or women - eventually have to struggle through the same things."
Reading has been Bajwa's passion since childhood but Amritsar doesn't have many good book shops and she had to get them from Delhi or Chandigarh. She has a big list of her favourite writers. As she says, "It is a pleasure to know that you can always read a good book - at least that is one thing you can count on in an otherwise uncertain world."
And sure enough those who have read The Sari Shop agree with her statement.
*****