Amin Gulgee
-Redefining the Language of Sculpture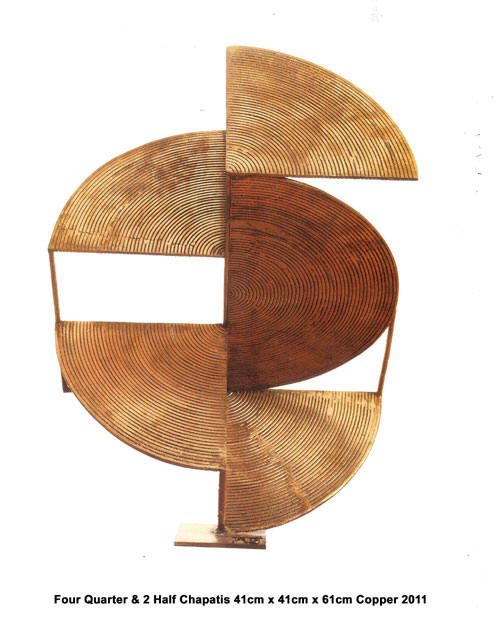 Amin Gulgee has sculpted calligraphic forms and Buddhas in copper and bronze and exhibited his work the world over. Pakistan's foremost sculptor, Amin's natural and instinctive thrust is towards spirituality. His work – reflective and meditative - speaks for itself. It can be seen and felt. But Amin the man is seldom accessible. Amin graduated from Yale with a Major in Art History.
In an exclusive to SALT, Amin talks about his work, his beliefs, his values and his passions, of going through life as a thinking human being, .and how he has dealt with the recent tragedies in his life. His father Ismail Gulgee, one of Pakistan's greatest artists best known for his calligraphy and portraits, and his mother, were murdered at their home, by domestic helps, in Karachi in December 2007.
Amin Gulgee has been honoured recently as one of the 100 most influential and admired Pakistanis in the first ever Global Pakistan Power 100 List brought out in September 2012.
Karachi based Amin speaks passionately about his new series and his upcoming show at Nitanjali Gallery in New Delhi in February 2013. In conversation with Roopa Bakshi.
What new paths have you covered in the past 12 years – since the time we last met? Any diversification, any new creations?
Over the past 12 years I have continued threads that already existed in my work, and I have discovered new ones. I think through my work. The process leads me; I do not lead the process. One thread that has remained is my interest in bringing Islamic calligraphy into the realm of sculpture. In my work 12 years ago the text was readable and now in more and more of my work it is not readable. Although I use the same letters now that I did then, they are freed from having a meaning.
Twelve years is a long time, so it is easier for me to talk about what I am creating at the moment. I am working on a series called Spider Raga. In this series of work, I use the line from the Iqra ayat of the Koran which says, "God taught man what he knew not." The Arabic script is Nakshi. In my body of work, I use one line from the Koran in one particular script and I repeat it over the years. Thus form for me becomes more important than the act of writing. In my earlier works the line from the Iqra script was readable and now for my Spiders it no longer is. The Spiders are homage to Louise Bourgeois, the French-American artist whose spider sculptures have long excited me. I wanted to create my own spiders using text. These Spider Raga works are about dance, freedom and joy. They balance precariously, reaching upwards. Dance is freedom!
A new series has emerged called the Cosmic Chapatti. These works are very controlled and meditative. They are about my great love of geometry and pattern. It is my attempt to bring a sense of harmony and peace to a world that seems insane. The process of creating these works was healing for me. My workshop is a place of escape for me.
Both the Spiders and the Chapatti works were part of a solo show I had last year in Kuala Lumpur and Singapore at the Wei-Ling Gallery. I am continuing these series for my upcoming show in New Delhi at the Nitanjali Gallery in February of next year.
Finally, the most recent work that I have resolved for my upcoming Delhi show is called "Perforated Wall: The Love letter." This work was inspired by the poems of Rumi. It uses the script from the Iqra series and, as in the Spider works, the script is no longer readable.
Read the entire article in the print edition of The South Asian Life & Times
subscribe@the-south-asian.com