Page 1 of 2
KNOW YOUR LEADERS - Part I
LEADING IN STYLE!
by
Isidore Domnick Mendis
They are all relatively young, yet to turn fifty, with big nationalistic dreams that are not idealistic jargons but purely achievable realities. They are all sharply focused on success and are palm-piloting their careers with battle plan exactitude. Meet the generation next politicians who would take charge of India's fortunes in years to come…
A new generation of politicians, far removed from the stereotype image of a politician of the 80s or the 90s, has emerged on the Indian political front. They are well educated with degrees, some from prominent Western universities, and would have excelled in any other field, had they not been in this much maligned profession. They are sharply focused on success and palm-pilot their schedules with battle plan exactitude.
This neo-breed of politicians takes pride in its more globalised education, are dismissive of the age-old Indian political values that centred on duplicity, and even hypocritical austerity. They dine at the best hotels, spend weekends at carefully selected holiday spots and live well and, at times, a high profile life. They are a far cry from the world of Laloo Yadav, Mayawati, and Rabri Devi.
It is a world inhabited by the immaculately dressed Arun Jaitley, social high-flyer Amar Singh, the western educated Abhishek Manu Singhvi, the new-age communist Sitaram Yechury and the modern-day prince charming Omar Abdullah.
They are all young, yet to turn fifty, and with big nationalistic dreams that are not just idealistic jargons but stark, purely achievable realities. And politics for them is just another profession, which they believe in with utmost sincerity.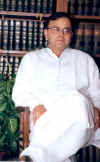 BJP's quick-witted, media-friendly Arun Jaitley - Union Law, Justice and Company Affairs Minister
As Union Law, Justice and Company Affairs Minister Arun Jaitley, puts it, "I was fascinated with politics right from school days, but for that I never left my studies, instead I used my academic excellence to gain a strong hold in my chosen profession". An Ex-Xavierite and later a student of the prestigious Sri Ram College Of Commerce and Law College in Delhi,
Arun Jaitley was initiated into politics by a most unlikely mentor, the champion of socialism in the country, Jaiprakash Narain. Over the years some of the socialism has however, peeled off, giving way to more real and recent concerns.
Media savvy Arun Jaitley can take on mediamen head on with a disarming smile. His straight-faced rejoinders find favour with the cameramen, qualities that Jaitley boasts of having consciously nurtured. "My body-language while articulating Government policies, my sense of dress and my easy accessibility, have all contributed to my being one of the most media-friendly member of my party, in spite of the fact that I have rarely fought any direct election", avers Jaitley. He admits that his carefully cultivated media-friendly image is due primarily to his need to be an alternate face in the political circles.
Radical in his thinking, his proposed panacea for rooting out corruption from the political processes in the country is an across the board increase in salaries of elected representatives. Outlandish though it may seem, Jaitley argues that, "all the talk of probity in public life will come to naught unless one discourages people from accepting bribes".
Unpacking his scheme of stemming the cancerous rot engulfing the systems, he feels that at the outset, we need to clean up the legal profession that he specialises in. Bold words matching Jaitley's self-assured dressing code.