POONAM SONI'S CANVAS OF GOLD
by
Sanjeeb Mukherjee
Poonam Soni is among the top jewellery designers in India Ė a field that has just come into focus as a fashion statement. Jewellery designers of the past, whose creations adorn the museums, did not leave any name-labels behind Ė only their craft. The contemporary designer is recognised by a label and rewarded for the effort.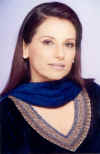 It was one of those defining moments that change your life. Poonam Soni was looking around for some pieces of jewellery for a special occasion but nothing caught her fancy. So, she put pen to paper and sketched out the kind of designs she was looking for. When the pieces were made, the jeweller was so bewitched with what he saw that he requested her to become his official designer. Soon she was designing for close friends and relatives. As word spread about her creativity, she knew that it wouldnít be long before her passion turned into her profession. Today she is among the best in the country and her daughter Kirti, who is a jewellery designer as well, won the International De Beers 2000 award.
The mother-daughter duo has three workshops in Mumbai along with two boutiques---Signature Line and Jewel Inn. Now she is also planning to open one in Delhi. But more than that, it is the international recognition that has come her way, which has put her ahead of others. Recently one of Japan's well-known labels Takaya Gems appointed her as their lead designer of the year.
Poonamís first assignment was to design some pieces that would highlight the rich history of India. Keeping with the style that she has perfected over the years---unconventional yet elegant---she went on to create a tantalizing line based on two best known monuments of India, the Taj Mahal and Fatehpur Sikri. For this she used the mother of pearls, tanzannite and diamonds with an ivory base to highlight the beauty of the Taj during a full moon night.
Informal Training
Interestingly, Soni just had informal training in gems and diamond sorting when she started business from her home in 1995. But her unique selling point came when she started customizing jewellery for her individual clients and never repeated the designs.
Her keen analysis of the kind of designs that would suit her clients has now made her a very popular craftsperson.
Even now, she says, before designing any customized jewellery she takes into consideration all the minute details. She keeps in mind the personality of the lady, her likes and dislikes, her budget, the colour of her hair and skin and the occasion for which she wants the jewellery.
If the lady is young, tall and fair then Soni says she prefers to add colour and dimension to the designs to give the jewellery a funky look. But if, the lady happens to be middle aged she designs something that is elegant and graceful, which suits the age and personality of the woman.
" Most of the time I go by my own instincts. My clients respect that and are happy with what I have to offer," says Soni. Her busiest time is obviously the wedding season when would-be-brides throng her boutiques looking for exclusive stuff. Says she, " Most of my top customers donít want their designs to be repeated and they are ready to pay for the exclusivity. So, I am very cautious. So much so, that I donít even take pictures of those designs." A couple of months ago she put up a resplendent exhibition in Delhi where her jewellery sold out within two days.
Tissue Look
She has given new names to various designs, which have now become synonymous with stylish jewellery. Her Tissue Look is a unique mix of golden threads that are woven much the same way as wool is woven to make a garment. The other names that have come to be associated with her are soft gold, paper crushed gold, amalgamated gold and shaded gold.
Soni embellishes jewellery with a variety of semi precious stones like lapis, onyx, corals and amethysts. She is one of the few people in the country to use a variety of textures and materials like leather and sponge with 18 carat and 22 carat jewellery. Her personal favourites are compressed gems and diamonds that enhance the beauty of jewellery and give it a striking look.
In the last few years Soni has unveiled Greek, Egyptian and Mogul collections as also the Temple line that have evinced an enthusiastic response. Her Greek collection was inspired by a 16th century chapel, which she once visited. Similarly her, Mogul line is also inspired by medieval architecture and has a distinct Muslim touch to it.
Scriptures Line
A popular collection is the Scriptures Line which she created to counter criticism that her designs were very westernised. The collection is inspired by the letters in scriptures. Though very challenging, this was a labour of love as she says, scriptures have fascinated her since she was very young.
For weddings and other joyful events, she has the Temple Line, where she creatively uses non-traditional colours and materials with a slight western touch to make them more wearable. Her wedding designs are opulent and extravagant that can be worn again and again.
Says Soni, " Designing jewellery has fascinated me since my childhood though I never imagined it would become my profession. But from the beginning I have always customized my designs to suit the personality of the wearer."
However, she says, designing jewellery is an art which cannot be taught in schools. " You can learn the technical side of production but not the designing. You have to be born with that talent."
It is this inborn talent that makes her distinct from other designers. Just like an artist she does not let just the customer's ideas prevail. " I am open to ideas but customers must realize I am a professional and if they are paying me well they must trust me."
Exclusive Designs

A potential customer who walks into Soniís studio is shown the various designs. But if these donít suit her, she creates her own exclusive design. But, she says, " I get exasperated when customers come with pre-conceived notions and refuse to listen to good advice."
Soni offers two different ranges---the Designer Line and the Signature Line. The former has a few common designs but the latter is absolutely exclusive and only one piece of a kind is designed for a particular client and is never repeated. Her Designer Line is priced between Rs 80,000 to Rs 3 lakhs while the price of her exclusive range can run into much, much more.
Besides her existing lines, Poonam recently introduced a unique fusion of colours and indo-western styles with strong focus on elegance and class. The Festival Collection 2001 that she exhibited in Delhi included a new line of stones like tourmalines, garnets, and rubies in eye-catching arrangement with hand-mounted diamonds.
There are five different stages involved in the manufacturing process and it normally takes a week to ten days to complete one piece depending on the intricacies of the design. "I look very minutely and if anything looks out of place, I make it a point to change it there and then," says she. In the branded jewellery market, where international companies like Cartier, Tanishq and Platini are busy introducing new ornaments to the Indian women, Poonam Soni has successfully maintained her exclusive line. Says she, " Quality, design and exclusivity are the hallmark of my brand. I donít want to venture into mass production. That will destroy my creativity. I treat my collections as works of art."
_____________________________________