At first it was in ones and twos. Today, they have arrived in droves. Almost each month, readers are greeted with new names on the book stands and the writing within the covers is refreshingly original and true to life. And international recognition is coming fast and swift. Starting with the Booker Prize to Arundhati Roy, the Onassis International Competition Prize to Manjula Padmanabhan for Harvest and the Pulitzer Prizer to Jhumpa Lahiri for Interpreter of Maladies, women writers are making a major literary impact. Two decades ago it was Anita Desai, Bapsi Sidhwa, Shama Futehally and Amrita Pritam who were considered the big names among women writers from south Asia. The surge in the number of women writers came about with the establishment of their Indian offices by well known publishers like Penguin and Harper Collins. There are, today, over sixty women writers of repute in different Indian languages including English who are gaining literary respectability.
What are they writing about
In a way , contemporary Indian writing owes a debt of substance to these women writers who have taken off from the literary launch pad and are soaring comfortably in the world of serious readers. Their settings are usually the everyday world of a middle class family, as many of these new women writers are themselves housewives and mothers. Shobha De, who writes six to eight hours a day on an average, says that the 'chaos of domesticity' provides the trigger for her writing process.
Award winning bilingual author Mridula Garg began writing after marriage. Though she says she enjoyed her children, she did not find her life fulfilling enough till she put pen to paper.
Explaining the sudden success of these ladies Dom Moraes once said in an interview, " their themes are really feminine, close to the home and hearth."
But times are changing. Though women writers have managed a spectacular absorption of these domestic situations to ignite their literary fire, their writings these days often go beyond 'hearth and home'.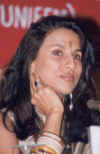 Shobha De - " .. writing about sexuality is still hurtful to men ... it could mean women talking about their husbandsí shortcomings or writing about being bored with them sexually, mentally or spiritually."

Many modern-day women authors are now expressing themselves freely and boldly and on a variety of themes. Though there may still be cases of the occasional male envy, these new writers are not holding back in expressing the point of view from a feminine eye without adopting feminist postures. At a recent seminar Shobha De put it succinctly when she said, " the label of a `feminist writer' is one that marginalizes. I for one identify myself as a woman writer because of being read, judged and perceived differently by male readers on account of my gender."
In a way Shobha De personifies the dilemma that has dogged Indian woman writers. Traditionally if they stepped out of the boundaries drawn by men they were ignored, sidelined or silenced. They were merely the minority sub-culture in a male domain.
But authors like Manju Kapur, Jaishree Mishra, Jhumpa Lahiri, Mridula Garg, Arundhati Roy and more, are fast destroying this traditional image. For them the age of women writers has finally arrived.