Page 2 of 2
THE NEW AGE OF WOMEN AUTHORS
(cntd.)
by
Surabhi Khosla
" For centuries children have gathered around their grandmothers' knees to listen to tales. Women have been unofficial story tellers to generations. But when it came to documenting literature, men historically dominated the role of authors," said leading women writers at a seminar organized by a Delhi based NGO, Interventions For Support, Healing & Awareness.
Top women writers including Mridula Garg, Shobha De, Manju Kapur, and Urvashi Butalia---director of Kali for Women, a women- specific publishing house---agreed that the age of the woman writer has indeed arrived.
" Women are talking about sex, about men, and are expressing their feelings in no uncertain terms," they noted with satisfaction.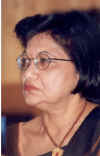 Mridula Garg - arrested and charged with the Obscenities Act in the 70s for her novel Chitcobra.
Her crime - highlighting her female protagonist as a sexually sensitive and a thinking woman.

Till a few decades ago such writings were still done by women at their own peril as male censure was prevalent. To highlight their point they cited the case of Mridula Garg's novel Chitcobra.
After its publication in the seventies, Garg was arrested and charged with the Obscenities Act. Her crime: She highlighted the female protagonist as pryagya-rupa [aware woman] as opposed to just matri-rupa and priya-rupa [mother and lover]. The book delineated a thinking woman's dichotomy between the body and mind while making love to her husband.
More than two decades after the Chitcobra controversy, women writers have become more emphatic and forceful. They have begun to break free and discuss issues that were taboo till just a few years ago.
Though Shobha De says she simply writes about women's lives through a woman's eyes, she feels that writing about sexuality is still hurtful to men as, " it could mean women talking about their husbandsí shortcomings or writing about being bored with them sexually, mentally or spiritually."
Most writers at the symposium felt that down the ages labels have been used to marginalize women whose writings had a feminist content. Labels compromised their overall creativity because they were women. But Subhadra Butalia felt that labels were what women authors wanted to make of them. They could be rejected.

Manju Kapur - "Men are overly demanding in relationships ... they often hurt women without sometimes knowing they have done so."
Manju Kapur, author of best-selling Difficult Daughters, said she wrote in a female voice because she " knew no other voice." But she candidly admitted she had difficulty creating likeable male characters. Men in her books, like men in society, came across as negative since they are overly demanding in relationships. " They often hurt women without sometimes knowing they have done so."
Mridula Garg said that her women characters would not like to be men. " However, the co-existence of feminine and masculine as in ardhanareshwar connotes likeability." And that appears to be the direction being followed by leading women writers. The issues are no longer feminist or chauvinistic. They are everyday issues faced by everyday people. Top women authors are finally obliterating the gender bias in writing.
Their language is not a contorted version of the Queen's English but a language they have learnt in India. A kind of a Hinglish where Hindi words are often used but seldom explained because it is the everyday language which is used in educated urban India.
Unlike the writers of yesteryears, today's women are a merry medley of professionals, housewives and mothers. Short story writers, authors and chroniclers, these women writers are blazing a new trail, which is making them a force to reckon with.
Interestingly, however, their books are not ambitious in scale or volume. Many times the daily chores of the household---the immediate family, the relationships and the joys and sorrows--- become the setting of their works.
Or, as poetess Rukmani Bhaya Nair puts it, " Have wrung poems from households tasks/carrying water, child, sorrow... "
_________________________