Mahreen Khan
- presenter of 'Question Time Pakistan'
by
Isidore Domnick Mendis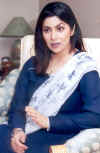 "People must be told not only of our common past but the importance of a common future"
Mahreen Khan studied law at Cambridge, public administration at Harvard; she was a legal and economic policy adviser with the United Nations in Kosovo; and now hosts BBC's Question Time Pakistan, a 50 minute weekly discussion programme.
As presenter of BBC World's Question Time Pakistan, a 50 minute weekly discussion programme comprising four panellists and studio audience, Mahreen Khan's somewhat ambitious mission in life is to try and bring peace between the two nuclear-powered neighbours through her popular show.
" I'd like to usher in more people-to- people contact. Have TV shows where both Pakistanis and Indians can participate. Air serials, contests and talk shows with representation from both countries. That would certainly help people warm up to each other," said Mahreen Khan in a telephonic interview from Karachi.
Question Time Pakistan telecast every Friday at 10:00 p.m. on BBC World has a high viewership - thanks to the issues discussed in the show.
Born and brought up in London, Mahreen graduated in law from the Cambridge University and then went on to do her masters in public policy from Harvard. She returned to London for an advanced law course at the Bar of England, and subsequently got selected as legal and economic policy adviser at the United Nations administration in Kosovo.
Last year after her father retired, she too quit her job at the UN and decided to return to her roots. " In Pakistan we have our extended family. Being the only child I decided to spend more time with my family."
Knowing how things operate in Pakistan, Mahreen decided not to pursue law." I began utilising my knowledge of law and politics in TV documentaries, which included themes like the Afghan refugees and fight against militancy."
" My most memorable documentary was on the dynastic politics of Pakistan. It has been telecast several times on viewer demand. I think the issue of dynastic politics is prevalent across South Asia. But the media hardly pays heed to it," says Mahreen.
Glowing Reviews
It was perhaps this documentary that got noticed by he BBC World and Mahreen was selected to anchor Question Time Pakistan that commenced airing from August 2, 2002 and has been receiving glowing reviews.
Says the anchor, " Though the target audience is from the subcontinent but people within the Asian region, who have similar problems like poverty and emancipation of women, have a great liking for the programme. Besides India and Pakistan we have been receiving a lot of feedback from the Gulf countries as well."
The highest response was for an episode titled President Special. That, says the anchor, was a great achievement because never before had the President of Pakistan participated in a TV interview except for the state television."
Being a woman and in Pakistan has it been easy to pursue such a dynamic profession? Yes, says Mahreen, " I feel so proud that a woman has been selected to anchor Question Time Pakistan. I am doing my best to dispel the stereotypical image of a Muslim woman not being able to pursue a serious career."
And what's her next goal in life? " I'd like to use the show to promote the concept of conflict resolution between India and Pakistan. People must be told not only of our common past but the importance of a common future," says Mahreen.
Being such a high profile over-achiever is there anything she really still desires? And the answer is a bit surprising. " Yes. I'd like to visit India. I've never been there." And is there anything specific she'd like to do while in India? " Yes. Head for the Taj Mahal. I've always craved to see the great monument of love!"
__________________________