NIKITA ANAND
MISS INDIA UNIVERSE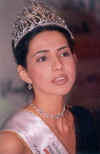 Q: How do you feel after winning the Miss India Universe pageant?
A: Oh, it's changed my life forever. I still haven't been able to get over what I've achieved. I am thrilled and so are my friends and family.
Q: Do you give the credit for your achievements to anyone beside yourself?
A: Of course, my parents. They have always supported me in whatever I've wanted to pursue. But I'd specially like to thank my mother. She is my best friend and guide.
Q: Tell us something about your background?
A: I was born in Jalandhar and my father who is a doctor in the army was on a transferable job I travelled a lot and frequently changed schools. I was in St. Mary's, Pune; Bishop Cotton, Ranchi and Cathedral in Mumbai. After that I joined the NIFT in Delhi.
Q: What prompted you to apply for the Miss India contest?
A: I have modelled and was on the ramp as well. So when I saw the ad I applied and got a call. I started preparing for it in all earnestness. One step led to another and…here I am.
Q: What are your future plans?
A: I have many plans, many dreams. But right now I am just concentrating on the Miss Universe title as I want to give it my best shot and try and bring one more title for India.
Q: Is the Miss India an end or a means to an end?
A: This title gives you a wonderful platform to do what you wish to. I have always been interested in fashion designing and I'd certainly like to establish a label of my own.
Q: How come there are so many Delhi girls winning the Miss India title these days?
A: I would like to differ here and say that it's not only girls from Delhi, but from the urban areas who are making it big. And the reason is not far to seek. Educated, urban girls coming from good family backgrounds are constantly exposed to big city life and are in tune with the trends and styles of the day plus they have easy access to resources.
Q: What are the qualities a girl must possess to win the Miss India crown?
A: She must be a perfect blend of a traditional and a modern woman. She must have poise and grace, a presence of mind and wit to answer difficult questions put up by judges. If a girl possesses all these qualities there are great chances she could be a winner.