SHWETA VIJAY
MISS INDIA EARTH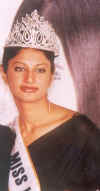 Q: When you entered the contest did you feel you had a chance of winning the title?
A: I had hoped to win it. Now that I am Miss India Earth, itís a dream come true. I always dreamt of the Miss India crown on my head and now that I have it, there is nothing more wonderful than this. I canít describe the feeling.
Q: Usually it is said that girls from the south are more traditional and shy away from such beauty contests. Is that true?
A: No, itís not. I am a Malayali from Kerala. I would like to be a role model for Malayali girls and tell them they too can make it big. Looking at my success, it would be great if their parents too give their girls a free hand and let them chase their dreams.
Q: But you havenít spent much time in Kerala, have you?
A: I was brought up in Dubai and after schooling I did a two-year course in computer software. Earlier I had participated in the Miss India UAE contest and won the crown and stood fourth in Miss India Worldwide pageant. My modelling career started with a fashion show in Dubai and then I shifted to Mumbai where I entered the contest.
Q: What are your future plans and how are you going to use this title?
A: Apart from the international event I have loads of things on my mind. But obviously, the first priority right now is the international event after which I would like to use my title for the benefit of the values it stands for---environment related issues. Other than that I would like become a professional model.

Q: Donít you think these international beauty contests are used more for commercial purposes than for promoting any social causes?
A: I totally disagree, because the contest enhances your personality. In any case this is not just a contest of external beauty rather it tests your inner beauty, personality, intelligence and presence of mind. So even if you donít win the title you are always a winner.