Page 2 of 2
REMEMBERING BABA SANYAL
- A journey from Lahore to Delhi

(cntd.)
by
Vijay Kowshik
During the country's Partition, Sanyal with his wife Snehlata and tiny daughter Amba migrated to Delhi. This was a very testing time for him and his family and they overcame the trauma of displacement and started life afresh. He gelled well with the group of artists at Delhi at the time. They were members of the All India Fine Arts and Crafts Society but as it was being run like a fiefdom, Sanyal with a number of artists walked out, and the first meeting of the new group being formed took place at the Jantar Mantar grounds. The participants were B.C. Sanyal, Dinkar Kowshik and K.S. Kulkarni. Many subsequent meetings took place at Kowshik's house at Allenby road where he used to stay at the time and which was very central near Connaught place. It was decided that they would get more artists involved and form a society. The Delhi Silpi Chakra was thus born and the name coined by Kowshik who apart from being an artist from Santinketan, was a graduate in English from Poona and knew Sanskrit. The others who came into the folds were Kanwal Krishna, Shankar Pillai, Jaya Appasamy, K.C. Aryan, Ram Kumar, Dhanraj Bhagat and P.N. Mago, among others.
B.C. Sanyal had the qualities of a good leader among the artists and the Delhi artists gelled well with him. It was a completely new art scene developing at Delhi and the country for that matter at that time. 'Silpi Chakra' as the society was commonly known, started having regular exhibitions, discussions, talks and invigorating interactions between creative art fields of visual arts, literature and music. With the sympathetic collaboration under Sanyal's persuasion, Ram Babu of M/s Dhoomimal Dharamdas at Connaught Place started the first commercial art gallery of Delhi. Later the Silpi Chakra got its own premises at the Shankar market at Cannought place which had just come up then.
Bhabesh Sanyal took over as the head of the Art Department at Delhi Polytechnic (1953-1960), and the Department made a great headway. Later as the Secretary of the Lalit Kala Akademi (1960-69) he brought in great changes and endeavoured to enrich the activities of the Akademi and touched the lives of artists all over the country.


Tree at Andretta by B C Sanyal
His love of the mountains took him to the valleys of Himachal and he initiated and formed the 'Woodland Society' for artists at Andretta on the land given by Nora Richard for the purpose.


Portrait of his daughter Amba - by B C Sanyal
I remember every once in a while my father Dinkar Kowshik, taking our family to his house at Nizamuddin(east) and in my child's eyes he was like my father's older brother and his daughter Amba was the most beautiful girl in the world and I was so proud she was like my elder sister. His wife Sneh di was a confident young lady who had deep interest in theatre and had very clear opinions on most issues. His studio at Gole Market was to a great degree instrumental in nurturing artistic activity in Delhi after 1947, many a now- famous artists bloomed through that studio. There was a very beautiful portrait of Amba, which Baba Sanyal had made and which is reproduced here among some other virile works of his.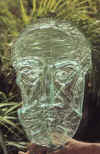 Sanyal's portrait in glass by Vijay Kowshik
This veteran artist's major qualities were, his strength of character, honesty, perseverance and his wit and humour. These were the main tenets of his humane nature and his leadership qualities because of which people from all echelons were attracted to and looked up to him. His works portray the same qualities of strength and sensitivity. They have the spiritual strength of a person who in spite of the tensions of the inner self and the external forces has a clear mind and a direction. In his works there is a unity of painting and drawing. It has an organically flowing foreground and the elements in the background bind together. The way he deals with forms, space, colour and light strikes me like lightning - differently vibrant each and every time. His works may also be described as 'relational' because it establishes a strong relationship with the characters and feelings of people and the context. The canvas and the paint were but an instrument in his deft and precise fingers for his research into the nature of being.
Even after going through a century in time, Baba Sanyal kept his youth and the attitudes to match. His mind was agile and he was interested in any new development taking place. For example when the various techniques of working in glass were explained to him in his 100th year, he had a keen desire to work in glass and do compositions in the medium. He had the uncanny quality of finding humour in any situation and liked to interact after having his own private space for himself in his mind where he continuously introspected.


Study of a crow and a cat by B C Sanyal
He had a cultured wit and a civilized humour, which was mild, but deep and profound. His landscapes, a lot of which were done in the Dhauladhar and Shivalik ranges in Himachal, have the dreamlike quality which his subconscious must have perceived but still they are connected to the conscious with regard to being intelligible. The spontaneity and strength of his strokes are vibrantly depicted in his studies of birds and animals specially the virile cat and the alert black crow done by him. His sculptures are also a pleasure to experience and confirm the fact that his enduring spirit is always young, fresh and reaching out. It has no relationship to the physical years. This spirit of his had touched many a heart and minds who carry forward the flame which has its origins in the depths of Baba Sanyal's heart.
*****