Page 1 of 4
Iqbal Hussain
– of Lahore, Pakistan
interviewed by
Salman Minhas

(The article and all photographs are copyrights of the-south-asian.com. Republication or redistribution of this article and the photographs, in part or its entirety, is expressly prohibited without the prior written consent of the-south-asian.com)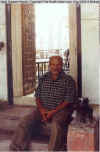 Iqbal Hussain - at home with multi-religious tones
Iqbal Hussain is the enfant terrible of Pakistan. He is unconventional, outspoken, radically innovative, avant-garde and more – all of which appears starkly in his paintings.
He is of medium height, is deep chested, and paunchy. His self-assurance and that firm torso exude the kind of authority and sensitivity that does not need advertising. In repose, his gray eyes are hooded, inscrutable, yet twinkling with buoyancy, "the unbearable lightness of being". In one of his self-portraits with a cap he could almost pass off as a French wine maker. His house interiors juxtapose the multi-pan-religious and earthy tones, bearing statues of Buddha, Hanuman, Nandi Bull, Virgin Mary with a church bell over her head. He has painstakingly collected old doors, enameled tiles, and mirrors and put them in a real life canvas of his home- haveli.
In retrospect, one could almost hear at times the faint strains of Beethhoven's Ode to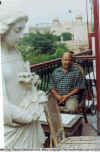 Joy" symphony as one climbed & walked through his haveli in the inner city of Lahore. On the west roof café, is the white marble Virgin Mary statue silhouetted against the skyline of the Badshahi [1674- Imperial] mosque. To the east, on his roof café, through the dancing Natraj Shiva's railings is the massive Lahore Fort Main Gate and walls built around the same time. The old river Ravi used to flow past these monuments very much in the style of all old cities in Asia and Europe. Iqbal's Hussain's house stands on the left bank of this river, now flowing about a couple of miles to the northwest. He has painted the Ravi River with its boats and buffaloes in various moods and seasons. His house he has mockingly named the "Holy Palace". To the south is the rest of the old walled city of Lahore with its eleven Gates. In winters the sky is full of paper kites especially in this part of Lahore. This is Iqbal Hussain's canvas's backdrop.
Even when he talks of the sufferings of his working class neighbors and background,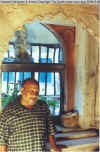 there is no melodrama, no waving of arms. There is only a quiet, almost Buddhist acceptance of life's sufferings. What you see is what you get. There are no multi-faced Asian traits here. In his case, the cliché about being the tip of the iceberg is incorrect. The man has too much of a Lahori's warmth for that. Yet the power and the passion below has the distant and deep growl, rumble and roar of a jet engine as it revs up for a fully loaded long journey's take-off into a trans south Asian night. In his hands the painters brush, which he took up once his childhood novelty with guns and knives wore-off, has become his weapon of choice. He has learnt to wield this tool effectively, practicing his craft of painting with the mastery of a senior Black belt Judo tenth Dan martial artist.

He immortalizes his subjects in paintings that belong to Lahore's Old Walled City courtesans, dancers musicians, and the Ravi River landscapes. He uses mirrors within his paintings with great sophistication, to juxtapositions images of himself and sometimes the subject, as if to say mockingly to the viewers that this is to make you reflect on what is in front of a blinded society / citizenry. These are the courtesans, dancers, musicians that a deeply retrogressive and intolerant society has chosen to write-off and ignore. He captures the voluptuousness of big beautiful women courtesans, with all the earthy form of a Punjabi Jatti [country wench]. The artist Iqbal Hussain's work is in part like the blues saxophonist Coleman Hawkins [the Hawk], who was called the Rubens of the Tenor Sax. The mood of his courtesans and landscape paintings is "Mood Indigo":
Iqbal Hussain's paintings have been requested by the Jordanian Princess Wijdan Ali for the Jordanian Gallery of Fine Arts. His paintings/work were the only one from Pakistan nominated in 34 out of 321 paintings selected for UNESCO Headquarters Prize in 1995, Paris. In 1998 one of his paintings was auctioned at the Sotheby's auction house in London. His other exhibitions are given below.
Iqbal Hussain's works show his insights into [but also seek to transcend] the darkness, shadows, despair, desolation and no-exit life situations. Just as "Mood Indigo", by Duke Ellington was " a story about a little girl's love for a little boy … who one day doesn't come. 'Mood Indigo' tells how the little girl / courtesans feels waiting for society's acceptance. Iqbal Hussain's work bears the hallmark of true sophistication, which is audacious simplicity. His work, like that of all great artists is done in faith and hope. As a February born Aquarian, Iqbal Hussain's zeal in work stands in the same vein as William's Faulkner work, which in his Nobel Prize speech he said sought to:
" .. create out of the materials of the human spirit something which did not exist before"
Also visit
Iqbal Hussain's Art Gallery