Coffee break
Snippets from around the world.
All sources are duly credited
South Asians in News
The 2004 Ramon Magsaysay Award Winners
Source: www.rma.org


Abdullah Abu Sayeed (Bangladesh)
The 2004 Ramon Magsaysay Award for Journalism, Literature, and Creative Communication Arts
Sayeed was born in 1939 in Calcutta, where his father was a teacher and a well-known playwright. After Partition, he attended university in newly independent East Pakistan, which became Bangladesh in 1971. As a young man, Sayeed wrote poetry and fiction and led a vibrant literary movement of the 1960s as editor of the magazine Kanthashar; he drifted into the new medium of television and hosted a succession of popular shows. All the while, for some twenty-five years, he taught literature at Dhaka College.
Observing the decline of intellectual life in Bangladeshi society, in 1978 Sayeed founded the World Literature Centre to restore interest in reading among the youth and, he said, to "enlighten human beings." Under Sayeed's guidance, twenty-five university students began reading and discussing great works of literature in an Enrichment Program that soon grew to include high school and college students. Each group in Sayeed's program worked its way through a twenty-two week course of some seventy books drawn from Bengali and world literature — books by Rabindranath Tagore and Shakespeare, Kazi Nazrul Islam and Leo Tolstoy, among others. They met regularly in guided "reading circles" and won prizes for completing their assignments promptly.
With a grant from the ministry of education, Sayeed expanded the Enrichment Program to branches in Dhaka and eventually throughout Bangladesh. Today there are 500 branches in 54 districts and the program has hundreds of thousands of graduates. In the meantime, Sayeed developed the Centre itself as a library, serving hundreds of readers a day, and also as a publishing house. Sales of its 225 volumes of verse and prose and translations provide financial support for the Centre's activities.
Responding to the woeful lack of public lending libraries in Bangladesh, in 1998 Sayeed launched a nationwide library program. Funded largely by the Norwegian government, its well-stocked bookmobiles today make stops at 250 locations in four cities throughout the country. Nearly twenty-thousand readers have become bookmobile members.
Versatile and charismatic, Sayeed devotes himself utterly to the Centre and its programs and, these days, also to urgent environmental concerns. His work is constantly growing. Today the Centre offers programs in the arts and possesses a film and music library. Sayeed manages it all with thirty-five staff members and more than four thousand volunteers, including many of his former students. He dreams of building an ever larger network of libraries, bookmobiles, and reading circles throughout Bangladesh; and of publishing 250 new volumes of Bengal's great literature; and of erecting a new twelve-story cultural complex in Dhaka. But most of all Sayeed dreams of a new generation of enlightened Bangladeshi citizens whose values have been enriched by reading. His country's future leaders will emerge from such a group, he says hopefully. "We see our students everywhere."




L-R: Admiral (Retd.) Laxminarayan Ramdas (India);
Ibn Abdur Rehman (Pakistan)
The 2004 Ramon Magsaysay Award for Peace and International Understanding
As leaders of the Pakistan India People's Forum for Peace and Democracy, they are building popular support for peace on both sides of the border.Both men guided the organization until 2003.
The Forum's chief weapon was dialogue. In a series of joint conventions beginning in 1995, it drew hundreds of Indians and Pakistanis together to promote demilitarization, denuclearization, and peace, and to publish resolutions insisting upon mutual arms reductions and troop pullbacks; an end to cross-border provocations; and a "peaceful democratic solution" in Kashmir. Meeting alternately in Pakistan and India, the conventions have sustained this dialogue for ten years as the Forum's base has grown to embrace a web of environmental, human rights, trade union, and women's rights activists as well as concerned citizens from the academe, industry, and the professions. During the same years, the Forum organized people-to-people delegations of lawmakers, diplomats, soldiers, artists, women, and students to open friendly talk channels between Indians and Pakistanis and to counteract propaganda in each country stigmatizing the other. It also campaigned for the liberalization of travel between the two countries and for the revision of hate-filled school textbooks. At another level, Forum leaders such as Rehman and Ramdas worked behind the scenes with national leaders and opinion makers to promote the peace agenda.
Vijay Singh becomes only the third player to win the Buick Open twice.

What else has he done?
He changed his putter, going back to a standard putter after using a long one for over two years.
He has finished 1st on the PGA TOUR 4 times in 2004.

He ranks 10th in Driving Distance on the PGA TOUR.
Daniel Chopra gets his best finish on the PGA TOUR in 2004 - T8th at the Buick Open.


He ranks T32nd in Driving Distance on the PGA TOUR.
Anish Kapoor to create a sculpture at Ground Zero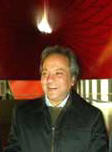 India born sculptor Anish Kapoor has been chosen to create an important work that will be the centrepiece of the proposed British Memorial Garden, close to Ground Zero in New York. Called Unity, Kapoor's sculpture will be carved from black granite and the block – about six metres high by 2.5m wide by 1.5m deep - would have a tall vertical chamber cut into it. The plan has been given approval by the New York Art Commission that is in charge of works of art proposed for open spaces in the city.
Anish Kapoor is one of the most influential sculptors of his generation. Born in Bombay, he has lived and worked in London since the early 70's. His work has been exhibited worldwide and is held in numerous private and public collections, including the Tate Gallery, the Museum of Modern Art in New York, the Reina Sofia in Madrid and Stedlijk Museum in Amsterdam.
Source: www.wdr.de
Environmental snippets
Orange Cauliflower Developed at Cornell's Experiment Station


Rick Pedersen grew orange cauliflower on the Pedersen Farm in Seneca Castle, NY, last fall. Consumer interest was good, he said. People like the color and the flavor.
Cornell University crucifer breeder Michael Dickson has transformed cauliflower from broccoli's pale cousin into a new orange variety that started appearing in supermarkets and farmers' markets last fall.
The florets of the new cauliflower look like those of its white cousin, but are orange. More importantly, the vitamin content of orange cauliflower is higher because it contains 320 micrograms of beta-carotene per 100 grams, or approximately 25 times more vitamin A than white cauliflower.
It has been a 30-year journey from the farm to the fork for the orange cauliflower, which was first found in the Bradford Marsh in Canada in 1970. The mutant was smaller and less tasty than a white cauliflower, but the orange color was alluring.
Source:New York State Agricultural Experiment Station
Koalas – in serious trouble


Photo source: MSNBC
Australian Koalas face extinction as rapid urbanization along the eastern seaboard destroys their fragile habitat, the Australian Koala Foundation is warning.
A survey of 1,000 koala habitats found 30 percent no longer had a koala in them and 60 percent had suffered widespread destruction.
Koalas are protected by law but the eucalyptus trees they call home and which provide their only source of food are not.
There are about 100,000 koalas in Australia, down from an estimated seven to 10 million at the time of white settlement in 1788. In the 1920s, three million koalas were shot for their fur.
With 80 percent of Australia's east coast temperate forests destroyed and continued rapid urbanization, koalas along the eastern seaboard could be extinct in 15 years.
Source: MSNBC News