Page 2 of 5
Delhi - the resilient city

Historic milestones
Delhi – in the last millennium – Part I
AD 1000 – AD 1100
1020 - Raja Anangpal Tomar built the town of Anangpur and Lal Kot
He also installed an iron Pillar of Vishnu in the middle of the city of Lal Kot.
Around that time - A Turk, Mahmud Ghazni, annexed north India. In 1022 he made Lahore his provincial capital. He invaded Hindustan 17 times. Destroyed Chakraswami temple at Thanesar, and Somnath in Gujarat, among others, to replenish his treasury.
1191 – Prithviraj Chauhan, the last Hindu ruler of Delhi, defeated and pardoned Mohammad Ghor, the Turkish warlord, in the first battle between them. He also renamed Lal Kot – Qila Rai Pithora.

1192 - Mohammad Ghor attacked and defeated and killed Prithviraj. The Hindu fortress city of Lal Kot/Rai Pithora fell. Mohammad Ghor destroyed the Hindu temples that lay along his way.

Mohammad Ghor , before returning to Ghor, made his slave Qutab ud din Aibak a General and left him in charge of Delhi.

Qutb ud din Aibak started to build India's first mosque on the site of Prithviraj's temple "from the remains of no less than 27 Hindu and Jain temples that stood within the walls of the city of Rai Pithora." This mosque was called the Quwwatul Islam Masjid. Many of the pillars are from the razed Hindu temples.

1198 - Quwwatul Islam Masjid completed. One attractive feature of the mosque is the sandstone screen that forms the façade of the mosque. It is carved in a fusion of Hindu and Islamic styles. The iron pillar that stands in the courtyard is the one that Anangpal installed. The Sanskrit inscription on the pillar dates it to 4th century AD. The pillar, in its 1700 years of existence, has neither rusted nor decomposed – a tribute to the metallurgical know-how of the times.

1199
– Aibak began work on the famous Qutab Minar.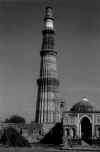 Conceived of as a victory tower. [The original construction was the work of Prithviraj, the last Hindu ruler of Delhi. The tower was part of a temple, which also housed the Iron Pillar bearing inscriptions from the Gupta period of 4th century]. The Minar rises 238 feet in five stories. Aibak's original structure had only three stories – the fourth was added by Iltutmish, the fifth by Firoz Tughlaq. In 1829 a Major Smith added a cupola at the top, which was removed for aesthetic reasons in 1848.