BOOK REVIEW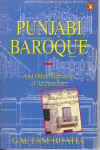 Gautam Bhatia: "Punjabi Baroque" – and Other Memories of Architecture.

[Gautam Bhatia, 1994, Penguin India]

This book has a special meaning and relevance at a time, when south Asian cities have begun to rock and reel, crumble under demographic pressure and not even look funny. In Mohenjo-Daro, Harappa, Taxila, and Benares, architecture and city planning emerged in an organic way. The city baths, the granary, the temples, the ghats were laid out in some utilitarian way. The river acted as one natural defense perimeter of a city and water supply. As Frank Lloyd Wright proclaimed "Form follows function ". Most European and Indian cities divulge a similar layout by the time of the middle ages - the walled city with a Fort and the river to one side providing defense against the attackers. Lewis Mumford writing in his magnus opus, "The City in History" , felt that cities were a living reflection of history's writing.

Of the developed modern cities of the oil kingdoms in the Middle-East, someone once said …….. " You can't build civilizations on kidney machines……… " [ that is water supplied from de-salination plants to cities]…. Others have said : " it puts you in reverse gear….lack of any organic cultural growth….living in a glass bubble, ….no tactile sensation……. Like a Jacuzzi, continuous pressure ….pleasurable but not productive………….. .No human friction "

And thus we come to Bhatia in his Book- Punjabi Baroque. Tthe new schools of architecture in Indian cities are :

"……….

Chandni Chowk Chippendale, Tamil Tiffany, Early Halwai, Akali Folly, Marwari Mannerism, Punjabi Baroque, Bania Gothic and Anglo-Indian Rococo…….."

A short-lived affair with the styles of minimalism, gorging on Mies van der Rohe" Less is More " , "simplicity of line " and purity of space " created the " Modern Humdrum". But the Indian mind wanted imagination and in the land of Kamasutra, came Louis-the-Gujju; in India , we got down into the level of furniture detail as well. Louis-the-XIV spread so strongly that Louis-the-Pakistan, or Louis-the- Lebanon were also formed and are flourishing with a vitality that shows no signs of diminishing.

Today's citiy in India, Bhatia says, " …….. is a place of momentary temptation, not of lingering pleasures. There is space in it for the fast food restaurant, but not the scented Mughal garden. The enclosed cinema, the hermetically sealed restaurant, the basement bowling alley, the florescent commercial centre, the air-conditioned flat. Quietly, almost without fuss, they have replaced the bungalow, the open arcade of shops, the sunlit sidewalk and the tree-lined avenue, the courtyard and the winter roof terrace…"

"The bungla, bungalow, bungle-oh , " Bhatia says was " designed to make the best of things , the best of imperialism, and the best of a hostile setting - . architecture of resilience. The memsahibs of Devonshire and Surrey created enclaves, little England in the bungalow. What started out as a humble peasant hut, a bungla, underwent a metamorphosis. One swapped wooden posts with Doric / Tuscan columns, tiles for thatch, and for constant English drizzly weather, the harsh Indian sun had to be guarded against. Hence the driveways , verandahs, the servant quarters, the store rooms.

After 300 years of colonial architecture, the Italian villa became the symbol of a free India. " Post 1947 confidence /independence made them manufacture a discarded British model car [ Moris Minor] and name it Hindustan.

''Delhi's architecture is a frightened response to the surrounding blight, to create distance between poverty and unaccountable wealth………each time a California clone comes up in Delhi's horizons, it's a resounding slap on the old lady,'' Gaudiness Galore announces – we have arrived.

"Backwater Bhatinda meets Vancouver-type cosmopolitanism which is Delhi's staple. See why three brothers from Jalandhar want a replica of Thomas Jefferson's villa in Virginia in the midst of Gurgaon's ravines? "

Gautam Bhatia's radical critique "Punjabi Baroque" is a milestone book; you will laugh at yourself and the folly of South Asian cities eye-sore architecture and planning; besides the book offers a fresh writing style and a vigorously new way of looking at these issues. If it was not for Calcutta and New Delhi's new underground and CNG Buses, you would have urban mayhem. Although published in 1994 , this book becomes more relevant each day for all south Asians who once boasted of cities such as Benares , Delhi, Thatta. Read this book. Our cities architecture reflect south Asians' confused thinking and pop-mixed up thoughts. When the old quarter in Warsaw, Poland was completely shot to pieces by Hitler's SS troops, once the war was over the unvanquished spirit of the Polish people, was reflected by its architects, who took the old blueprints and rebuilt each house lovingly , with care. How many of our south Asian city mayors and mandarins of bureaucracy have shown similar passion? One sees a glimmer of passion in the citizens of Calcutta and Delhi who are proudly keeping their new underground transport systems spotlessly clean. This proud civic spirit needs to be encouraged . Meanwhile, look around your city and contemplate Bhatia's ironic insights of our tastes and character in this brilliant book.