Wasim Akram: The Sultan of Swing
by
Gyan Marwah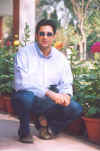 He was one of the finest left arm bowlers the game has ever seen and has an enviable record of more then 900 wickets in both forms of the game. Former Pakistani skipper Wasim Akram is now ready to hold a microphone as he joins ESPN Star Sports. The Sultan of Swing is also unofficially imparting important lessons to Indian speedsters to hone their talent. Excerpts from an interviewÖ..
Q. What advise would you like to give to Indian fast bowlers currently-on tour of Australia?
A. I feel Indian bowlers like Zaheer Khan, Ashish Nehra and Irfan Pathan should resist the temptation of bowling short on Australian pitches. The Aussies are very strong at tackling this weakness of bowlers from the sub-continent. I would like to see them pitch the bowl one foot or so further up for quick results.
Q. Was your decision to become a TV commentator a well thought of move?
A. It all began during the World Cup in South Africa. ESPN-Star Sports had been approaching me so after bidding international cricket goodbye I gave a nod to the offer. During my playing days many journalists asked me to comment on matches and players but I wasnít able to do that freely as I feel I was also a player then. But now I will freely be able to put my opinion across to viewers.
Q. Wasnít your retirement a bit too early as you had a fair amount cricket left in you?
A. Isnít twenty years a long time? All through these two decades I have given the game all I had. I played with passion, but the passion seemed to be fading and I decided to hang my boots. Thereís a time for everything and I feel it was the right time to quit.
Q. As a commentator which way are you going to swing the ball and what is your game plan for your new innings?
A. I really donít know how this wicket will behave; I am clueless. I am excited even though thereís a lot of pressure on me. But things are different now and I am more relaxed and I hope that the new innings would be a memorable one.
Q. Would you like to comment on the cricketing ties between India and Pakistan?
A. I have always maintained that sports and politics should not mix. Cricket is a great platform for both the nations to develop goodwill. Itís good for the game as players enjoy it as it brings the best out of them. Above all people enjoy it not just in our two countries but an India-Pakistan encounter is fun for all cricket-loving nations.
Q. Do people in Pakistan also want the resumption of cricketing ties?
A. Like in India, back home too people pine for an India Pakistan encounter. I feel both the nations should play a series at least once every two years.
Q. Who do you rate as the toughest player to bowl at?
A. I had the privilege of bowling against some of the finest batsmen the game has produced---Sunil Gavaskar, Sir Vivian Richards, Martin Crow, Steve Waugh, Sachin Tendulkar and Brian Lara. But I would say Viv Richards was the toughest of the lot. He would march confidently to the pitch and look at the bowlers in defiance and dare them to bowl him out. I havenít seen in any other batsman guts of that kind. It has been my privilege to bowl to that great batsman.
Q. What do you think of the present Indian squad ?
A. I am highly impressed by the new Indian team. Their batting line up I feel is amongst the best in world cricket today. With players like Kaif and Yuvraj the fielding too has improved tremendously. The bowling too seems to be coming of age. This is a good team that rightly deserved its birth in the World Cup finals.
Q. What would you advice Indian bowlers for their coming tour to Australia?
A. Both Zaheer Khan and Ashish Nehra are talented pace bowlers. My advice to them would be to be patient and not get carried away by the pace and bounce that the Australian pitches offer. Maintain your rhythm and bowl a good line. And donít get tempted to bowl too short.
Q. What do you have to say on the excessive one-day-cricket being played?
A. One-dayers bring in the crowds and money in the game, but I feel they should not be played excessively as they take a toll on the players. The incidence of burn out and injuries is high and playing careers can get shortened. I personally look at the Test record of a player to judge his calibre. According to me 30 ODIís and around 10 to 12 Test matches would be ideal for any team in a year.
Q. You are severely diabetic, how do you cope with it and maintain your fitness?
A. It has been seven years now. When I came to know about it for the first time I was shattered, but my family and especially my wife gave me all the moral support. It made me more disciplined and mentally tough. Diabetics must learn discipline. They must control their lifestyle and do work-outs regularly. If they do that there are all the chances diabetics will live longer then even normal people as they take extra care of themselves.
Q. What are your future plans?
A. I would like to give the best shot to this new job at hand and whenever I have the time would like to play a bit of golf and spend whatever time I can with my family.
*****