Book Review
'The Horse that Flew : How India's Silicon Gurus Spread Their Wings'
by Chidanand Rajghatta. -- [ Harper Collins India, 2001 ]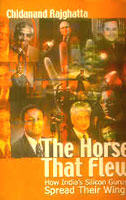 If you want to read the story of how India's computer and telecommunications engineers, designers and venture capitalists have toiled painstakingly and come to dominate the landscape of USA's technology corridors of California's Silicon valley, Dulles, Texas , Boston , here is the definitive account published in hardcover by Harper Collins, India.
There are 18 Chapters all with titles that reflect the authors delight with alliteration .They are named in order:
1. The Mouse that roared – about the accidental beginnings-IBM leaves India.
2. The Cats that stalked- Messrs Bose, Kapany and Tandon.
3. Hot Male – Sabeer Bhatia's $ 400 million sale to Microsoft.
4. The Seer of Sand HiIl road—Vinod Khosla- King Venture Capitalist [Delhi IIT].
5. Chip Monk—Vinod Dham and Intel's Pentium Cracker, Atiq Raza of AMD from Pakistan,
6. The Godfather – Kanwal Rekhi from Jhelum,
7. The Journeymen-- Suhas Patil-Cirrus Logic and Umang Gupta – Oracle,

8. The Flowering Trees, Gururaj Despande [ IIT Madras, 1972]- Cascade Ascend and Sycamore Optical Networks & Pradeep Sindhu [ IIT Kanpur, 1974]– Juniper Networks – Terabit routers,

9. The Network Nawabs/router rajas –Mukesh Chatter, Surya Panditi [ IIT Chennai,1980]-Avici, Hemant Kanakia[IIT Mumbai] –Torrent, Jagdeep Singh – Lightera Networks –DWDM spectral flow .

10. The Fibre King- Rajvir Singh – Inter HDL, Fiberlane Communications

11. The Dealmakers – Hatim Tyabiji –Verisign, Naveen Jain –Infospace –Dotcom bubble.

12. Hardware Heroes .- Chandrasekhar & Jagadeesh- Exodus.

13. Femme Fettle: silicon devis.- Radha Basu – HP, Vani Kola – Rightworks, Sriija Srinivasan- Yahoo.

14. Curry Fever : dotcom to doubtcom to dotgone.
15. The Tech High Five : - the story of Indian Institute of Technology –
germinating grounds for Indian minds.
16. The Middle Class Mahatma- - from Marx to moolah – story of InfoSys – NarayanMurthy .

17. The Talmudic Tycoon – Aziz Permji – WIPRO- from ghee to software.

18. The Horse that Slew – India's trillion dollar information economy.

When you go through this book, you will feel what it takes -- the human suffering, the long road, the sweat, toil & industriousness, patience, sacrifices, the boldness and the humility, the put-downs— that these men and women have endured to add immense value to this area of human knowledge and engineering .This is definitely a book for the young and old to be inspired and feel proud of.

It will also inform you why it is not just the Multinationals that are rushing to set up shop in India, but also Chinese companies, open to learning, setting up shop in India. The British who once destroyed Indian industry to take the cotton industry jobs to Lancashire Mills are finding that the English speaking Indians are taking jobs away from Britain in the Call Center industry. History has turned full circle. This book has documented the heroes that have started this new order of world history in the 21st. Century.