BOOK REVIEW
"A Brush with Life" –Satish Gujral. – An Autobiography.
[ in collaboration with Khushwant Singh, Viking Penguin India, 1997]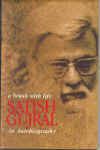 Dedicating this book to his wife [ " To Kiran who held my hand as I walked the valley of silence"], the second page is a quote from Faiz Ahmed Faiz' poetry .
"Wohi Chashma-e-baqa tha

Jisey sab sarab samjhey

Wohi khawaab mothir they

Jo khayaal tak na ponhchey…."

"What everyone took to be a mirage

Turned out to be a perennial spring

The very dreams we thought were idle fantasies

Turned out to be life's realities …"
Satish Gujral's roots belong to the small river town of Jhelum, now near the Mangla Dam in Pakistan. Born December 25, 1925 . He shows the archetypal quiet grit, cool, determination, aesthetics, and sensitive temperament of his Capricorn stars by ending his book with the Persian saying of his father :
." Kashf-o-kamal kun keh aziz-e-jahan shud.
[ Achieve excellence in your vocation for that is the way to win the world ]
There are ten chapters starting from his Jhelum childhood years and his family's background . The second chapter describes his accident near Pahalgam in Kashmir ,which rendered him deaf at an early age, and the death of his brother Raj in the Jhelum river at the age of fourteen.
The third chapter centers on Lahore, and Gujral's start of his art studies at the famous Mayo School of Arts under John Kipling, father of Rudyard Kipling. John Kipling was the pioneer who gave Indian arts and crafts an institution to grow. It was here that he began to mix with young men and women , who later became famous writers and poets. Faiz Ahmed Faiz , Krishan Chander , Hafiz Jullundri [ " famous for his Abhi to main Jawan hoon " verse that was later a hit ghazal by Malika Pukhraj – see her autobiogarphy book review "Song Sung True " in :
[ http://www.the-south-asian.com/Oct2003/Malka_pukhraj_Song_sung_true.htm ].
Included in chapter 3 are the accounts of Satish Gujral's developing adolescence , his awareness of B.C. Sanyaal's love affairs in Lahore with Kalyani, who was the daughter of the Mayo School's principal in those days. One reads of the curator of the Lahore Museum, a Hungarian émigré called Charles Fabri, Satish's exposure to socialist ideas and Amrita Shergill in Lahore getting her paintings thrown out from a balcony to the street below by an artist Roop Krishna, who considered Amrita's talents as passé.
Chapter 4 follows Satish 's move to Bombay [ in 1944] to the famous JJ School of Arts. Here Satish found the atmosphere more "self-assured and aggressive". It is here that Satish Gujral met Zulfikar Ali Bhutto whom he later meets in mid-1960s in India. It is here we learn that Faiz's house in Lahore has paintings by Satish Gujral.
Chapter 5 is the horror of Partition- 1947. The personal involvement of Satish Gujral in rescuing people from suffering; it also speaks of the heights of noble acts and the heights of depravity that were committed by one and all and how much it affected Satish as a young man. We also learn that Satish Gujral's father was in the Indian Parliament and of his mother's involvement with a social organization called Nari Niketan at Jalandhar where eventually his father moved and worked alongside his mother , and left all his savings to the Niketan Trust, which is now managed by his brother Inder.
Chapter 6 is on Satish's move to Shimla, and the paintings on "partition " done by Satish Gujral during this period. It also describes the Indian bureaucracy and how it almost prevented Satish Gujral getting a passport and his journey to Mexico on a study scholarship.
Chapter 7, titled Mexico, -early 1950's - is the blossoming of Satish's life there, his coming of age and his meeting with Frank Lloyd Wright – where Wright remarks on the Mural Wall being painted by Satish Gujral- " …. Well , an architect needs an artist to resurrect a dead wall, but I never design dead walls….." .It also contains his escapades in USA , New York, the sale of his paintings, and his gradual entry into the art world in India.
Chapter 8 is set in New Delhi, 1955. The start of his association with the Nehru family, his painting of Indira Gandhi's portrait, his marriage with Kiran, and the subsequent struggle as an artist in New Delhi.
Chapter 9 , is titled "Voyages" , his painting of Ghalib's portrait, his meeting with Faiz Ahmed Faiz ,and Faiz telling him ." .. that if he been a painter and not a poet he would have painted the way I did." Satish later painted the cover of Faiz's "Zindan Nama". Satish's friendship with Faiz lasted till the end of Faiz's life. Satish's move into architecture and his design of the Belgium Embassy along with his son Mohit's involvement in architecture is given some room here .
Chapter 10 is about the era of Indira Gandhi and her son Sanjay. Satish Gujral's attempts to play mongoose to mother and son are interesting .His last few paragraphs are about his brother Inder Gujral becoming the Prime Minister of India in April 1997.
This autobiography truthfully, without any narcissism, describes the travails of a man, who overcame his deafness and his humble beginnings to develop and grow into an accomplished artist /architect and a great human being. Such material are men from the villages of Punjab made of. An inspiring book.
*****